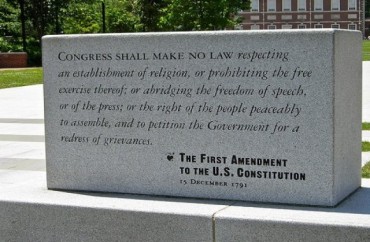 The University of North Dakota's president has rejected calls for a "zero tolerance" policy on "offensive" speech by pointing out that his institution is a public entity, and as such is subject to the First Amendment.
The Washington Examiner reports that requests for speech restrictions surfaced after two racially offensive incidents: A trio of white students had locked a black student out of her room and captioned a photo "locked the black b—-h out;" the other featured four white females in blackface with the caption "Black lives matter."
Although President Mark Kennedy said "It is abundantly clear that we have much work to do at the University of North Dakota in educating our students, and the entire university community on issues related to diversity, inclusion and respect for others," he cautioned against demands for a "swift resolution" to the incidents, saying investigations would follow due process.
"While I appreciate the desire for such a [zero tolerance] policy, it is unachievable under the First Amendment to the U.S. Constitution," Kennedy wrote.

"The challenge we all face is to find the balance between wanting to eliminate expressions of racism and bigotry and supporting the free speech guaranteed by the First Amendment. If we value freedom of speech, we must acknowledge that some may find the expressions of others unwelcome, painful or even offensive."

MORE: 'Blackface' incidents rile two campuses, including an HBCU, raise 1st Amendment questions

He added: "We can, however, speak out and condemn such expressions, and we can work to create a more welcoming and inclusive environment."

UND investigated each photo, and found that they did not violate the "UND Code of Student Life," but could not disclose the details of the investigation or its findings due to federal privacy law.
Free speech issues notwithstanding, the Examiner's Ashe Schow notes Kennedy made the right call.
"Who gets to decide what speech would be covered under zero tolerance and what kind of biases would be inherent? How broad would the policy be? One can imagine students getting disciplined for dumb mistakes or simply holding the 'wrong' viewpoints (like conservative ideas) under such policies."
MORE: Beauty mask mistaken for blackface at Wisconsin univ. ignites racial tensions, free speech debate
MORE: Students stage 'die-in' to protest blackface in production co-written by black playwright
Like The College Fix on Facebook / Follow us on Twitter
IMAGE: DC Writer Dawn/Flickr
Like The College Fix on Facebook / Follow us on Twitter