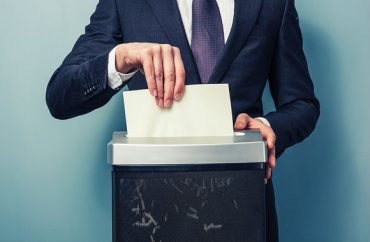 School ignores 'the plain language' of FERPA
Much as universities would like it to be so, they cannot hide whatever they want by citing the Family Educational Rights and Privacy Act (FERPA).
A Connecticut Superior Court judge told Central Connecticut State University that it gave a bogus rationale for depriving a student of information that he needed to defend himself against hearsay that he wanted to "shoot up" campus.
The Student Press Law Center reports that Austin Haughwout, the inventor of a " gun-equipped drone aircraft," sued the university after it expelled him a year ago based on statements he categorically denied making:
CCSU administrators claimed two students said they were unsettled enough by Haughwout's repeated references to shooting up the campus that they'd avoid the student union building to steer clear of him. Haughwout didn't testify, "I made those remarks, but here's the context that proves they were understood to be jokes." He claimed he never said those words at all. So the disciplinary board was left with two irreconcilable extremes — either Haughwout made multiple comments about wanting to shoot up the campus in a way that disturbed listeners, or he didn't make them at all.
Before his campus hearing, Haughwout filed a public-records request for the closed investigative file maintained by the campus police (the prosecutor had refused to even "authorize the arrest").
The school denied the request, claiming that since the file identified student witnesses, turning it over would violate FERPA. That's when Haughwout sued, claiming violation of his due process.
Judge Joseph Shortall ruled the school was selectively reading FERPA, in a section that could apply to universities around the country that reflexively claim FERPA shields them from public scrutiny:
The court … does not read FERPA as prohibiting any such disclosure at any time for any purpose. What it punishes, by the withholding of federal funds, is a 'policy or practice' of permitting disclosure of educational records. Disclosure on isolated occasions as a means of providing an accused student with an extra measure of protection from unfounded charges would not seem to be prohibited by the plain language of the Act.
SPLC Executive Director Frank LoMonte explains why this should be obvious to universities:
The penalty for being declared a FERPA violator is total revocation of eligibility to receive federal education funding. CCSU receives $16.2 million a year, nearly 10 percent of its annual operating budget, from federal grants. If college lawyers are correct that disclosing one record on one occasion to one recipient constitutes a FERPA violation, then the penalty is more than $16 million.

That is an exponentially higher punishment than any other violation of federal education standards. For instance, the fine for submitting falsified crime data to the Department of Education in violation of the Jeanne Clery Act is no more than $35,000.

So if college lawyers are to be believed, the penalty for granting a journalist's request to inspect a public document in accordance with state law is 450 times greater than the penalty for lying about whether a rape occurred on campus.
Yet Shortall's FERPA finding ultimately didn't help student Haughwout because the judge said he had no "constitutional entitlement" to the names of witnesses who testified against him in a campus proceeding.
He also said the school could legally defer to the accusers as more credible than Haughtwout and thus decide that he made a "true threat," which is not protected by the First Amendment.
LoMonte isn't pleased by this "aggressive reading" of the Supreme Court's true-threat standard, which sealed Haughwout's fate:
Haughwout was expelled solely on the basis of double- and even triple-hearsay testimony of CCSU's director of student conduct, serving as both investigator and accuser, which would be inadmissible in a court of law. Where the decisive issue is whether listeners genuinely understood what they heard as threatening or did not, the first-hand testimony of those listeners — and the ability to cross-examine them — seems essential to the fundamentally fair hearing that due process requires.
Read the story, which goes into greater detail of how colleges dupe the public into believing that FERPA blocks the release of practically anything that could make them look bad.
Also see LoMonte's analysis of FERPA's misuse in the University of Minnesota football team's short-lived boycott in response to an opaque disciplinary investigation into sexual-assault claims.
Like The College Fix on Facebook / Follow us on Twitter
IMAGE: Lolostock/Shutterstock