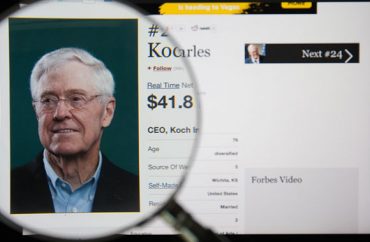 UPDATED
George Mason University is refusing to comply with a public-records request for information about donations from the Charles Koch Foundation*, saying that the public university's affiliated foundation is not covered by state law.
Attorney David Halperin, who has assisted Transparent GMU in its quest to unearth the records, writes in The Huffington Post that the student group just filed a lawsuit against GMU and the GMU Foundation:
As more and more state universities have created private foundations to assist with fundraising, there have been controversies and legal disputes across the country focused on the risks of private influence over public institutions — and over lack of public access to information about these dealings. Legislatures and courts in a number of states have required disclosure of information from private foundations associated with state schools.
One of those universities that has tried to hide donations behind its foundation is the University of Connecticut, which claimed that donations might plunge if were subject to legal sunlight.
MORE: Charles Koch gives $25 million to help black colleges
But institutions and professors targeted by Koch critics have accused them of eroding academic freedom by seeking to obtain and publicize private scholarly communications.
Transparent GMU is pursuing the same playbook as UnKoch My Campus, a national group that has targeted the Koch Foundation and the university programs it supports, looking for ideological strings attached to the donations:
Samantha Parsons, a 2016 GMU graduate, now works for UnKoch My Campus. She told me, "The Charles Koch Foundation has a history of giving 'philanthropic' donations to universities to buy influence over hiring of faculty and curriculum development. A donor should never have that type of say over academia, no matter how big the check is."
MORE: Anti-Koch activists tolerate funding with liberal strings attached
Those donations typically fund research centers that support the study of free enterprise. The Koch Foundation also donated $10 million as part of a $30 million gift to GMU's law school to rename it after the late Supreme Court Justice Antonin Scalia and fund new law programs.
Law school faculty unanimously scolded faculty outside the school for trying to torpedo the donation, saying there were no ideological strings on it.
Charles Koch himself was approached by the leader of a college fund for historically black colleges and universities, leading Koch to pledge more than $25 million to the fund.
Read the HuffPo story, UnKoch post and lawsuit.
MORE: UK promises to fund free enterprise center if Koch backs out
MORE: Effort to derail naming George Mason law school after Scalia fails
Like The College Fix on Facebook / Follow us on Twitter
IMAGE: GongTo/Shutterstock