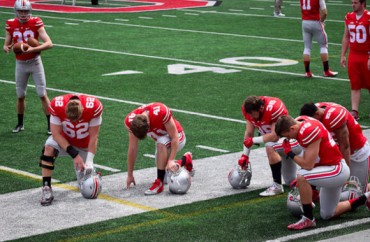 We waited 7 years because we thought it was an 'inspiration speech'
Joe Kennedy is fighting for the right of all educators to express their faith in ways that are visible to those around them.
The football coach who was fired by Bremerton High School for his silent postgame prayers on the 50-yard line – voluntarily joined by some of his players – appeared Monday before the 9th U.S. Circuit Court of Appeals, which has a reputation as the most liberal and most frequently overturned court in the country.
He sued the Washington State school district last summer for instituting a "baldly unconstitutional" policy after seven years of Kennedy practicing his postgame ritual, noting that his Buddhist colleague engaged in similar postgame rituals after Kennedy was fired.
Kennedy couldn't convince a district court to give him his job back while the case proceeds, but convinced the 9th Circuit to take his appeal.
MORE: Buddhist prayer is fine after games; Christian prayer is prohibited
The Kitsap Sun reports that Kennedy's case could also affect whether coaches can participate in political displays before and after games. An attorney for two coaches at Seattle's Garfield High School, who joined their players in a Black Lives Matter demonstration, is backing Kennedy.
The district's attorney told the three-judge panel in Seattle Monday that any prayer by a public school official where students are "present" – even voluntarily – is unconstitutional.
He played dumb when asked by one judge why the school district waited seven years to stop Kennedy from praying, saying it thought the coach was giving an "inspiration speech" to his own and sometimes opposing players, the Sun reported.
A lawyer for Americans United for Separation of Church and State argued an even more extreme position, that schools can be sued when they don't block and punish religious express by officials in the vicinity of students.
A lawyer for First Liberty Institute, which took up Kennedy's case, told reporters outside the courthouse after oral argument that the school district was also attacking religious minorities:
The rule they're advocating for would ban, for example, Muslim teachers from wearing a hijab, a Jewish coach from wearing a yarmulke or even a teacher wearing ashes on Ash Wednesday or making the sign of a cross before eating a meal.
Kennedy told reporters his goal was to promote wider understanding of "our constitutional rights" and get people "to communicate and start asking the question … Good communication, we need more of that."
Read the Sun story and First Liberty's Kennedy case page.
h/t The Daily Signal
MORE: Air Force team cleared to pray before, after games
MORE: University of Tennessee spurns atheist threat over football prayer
Like The College Fix on Facebook / Follow us on Twitter
IMAGE: Paula Lively/Flickr