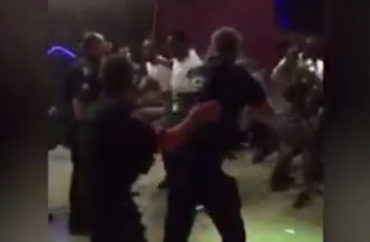 Administration's response? A 'talking circle'
Students at the heavily nonwhite University of California-Merced took to the streets Thursday to protest the police response to a "chaotic" scene at a club last weekend that ended with a "seriously injured" officer.
The march from campus to the police station, which blocked traffic along the way, disgusted an alum who told The College Fix in a Facebook message he "identifies as a progressive democrat but feels poorly represented by the actions of current students/admin."
"Scores of young people" participated in the march, angered by a viral video that showed just the end of the altercation, the Merced Sun-Star reports:
Protesters chanted several slogans, including: "No justice, no peace. No racist police" and "We won't stop until the charges get dropped."

As of Thursday, no formal charges have been filed against anyone in the case. …

No arrests were made in connection with the protest, police confirmed.

"It started off a little rough," [Capt. Bimley] West said of the protest. "What these kids are doing, they have every right to do and we appreciate that. It's good for them, it's good for us — really, it's good for everybody."
University students also protested campus police last fall, saying they were "harmful to the campus climate" and should be disarmed, despite one officer stopping the knife-wielding attacker Faisal Mohammad.
UC-Merced faculty mourned Mohammad, and its chancellor downplayed the attacker's ISIS connection that was cited by the FBI.
MORE: After stabbing spree, UC-Merced prof says terrorists are 'conservative' whites
'Blind-sided' before the suspect could be apprehended
Officers entered the hookah lounge early Sunday morning looking for a suspect on a warrant, the paper reported Sunday. While their weapons were drawn, they weren't pointing them at anyone, according to the security guard who recorded the incident.
As they approached the suspect, the officer who was severely injured was "blind-sided, punched in the face," Capt. Chris Goodwin told the Sun-Star: "Several people punched officers and our guys became surrounded by the crowd." The suspect got away.
One officer is captured on video firing a "sage weapon" – which launches a rubber baton – "into the side of a man who appears to be involved in a confrontation with another officer," the paper says.
Protesters said all five people arrested that night were college students "at various schools." The club was largely filled with black students.
'Probably not a good preparation for the 21st century economy'
The UC-Merced alum who contacted The Fix bemoaned the university's response – "a full compliment of psychologists, six-figure administrators, and something called a 'talking circle'" – and said it emboldened students to disrupt traffic.
"Sad day at America's first research university built in the 21st century," he said. "Probably not a good preparation for the 21st century economy."
The alum shared screenshots from a message to the community from Charles Nies, interim vice chancellor for student affairs. It encourages students to attend a talking circle with three officials and discuss "the important issues of race and social justice" in light of the hookah-lounge incident.
MORE: "'Radical Islamic Terror' is a non-existent term at UC-Merced
The university said it has expressed "deep concern about this incident" to city officials, Nies wrote.
He also offered four campus spaces for upset students to "gather" and offered them further counseling services if they want to talk "one-on-one," and said he had met with several students involved in the altercation to "offer resources and support."
UC-Merced's 'amateur sociologists' wouldn't care if students were white
The alum also shared a letter to the editor of the Sun-Star that has not been published, written by a county employee who "works in social services," Karen Sanchez Bricky.
"The violent confrontation at a nightclub full of known criminals and the pigheaded response from UC Merced students and administrators are a black mark on our community," Bricky wrote.
She said no one would defend a "white fraternity party" where "violent bros" attacked cops who arrived to serve a warrant. "The hypocrisy is that the 'amateur sociologists' at the university would be conspicuously silent":
We see tragic events around our country involving police, due to a lack of training and resources. By contrast, Merced cops treat people with respect and professionalism – our community is without such incidents.

Yet, in a confrontation with out-of-town gang members, incited by a full-decibel rendition of "F— the Police," by a DJ at a club owned by an out-of-town profiteer, MPD are the bad guys and students march into oncoming traffic. Is this why we fought for decades to bring a UC to Merced?
Read the Sun-Star original and followup report.
MORE: UC-Merced students demand campus cops be disarmed
Like The College Fix on Facebook / Follow us on Twitter
IMAGE: Merced Sun-Star screenshot