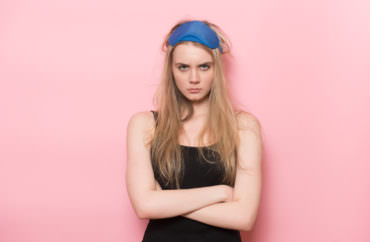 A San Diego middle school teacher's Facebook videos detailing an experience with the United States Border Patrol have been making the rounds this week.
Bell Middle School's Shane Parmely was stopped at a Border Patrol checkpoint in New Mexico, but she refused to answer whether she was a US citizen. She had family record the experience from the back seat of the car.
According to The San Diego Tribune, the English, art, and theater teacher told a BP officer that "she believed she did not have to answer their questions," whereupon she was informed she had to answer the query about citizenship but not others.
One agent showed Parmely a card detailing immigration law and a US Supreme Court decision noting the BP can "operate checkpoints within 100 miles of the border and […] ask questions about citizenship without warrants."
Parmely then turned the situation into a racial matter: "So if I have an accent, and I'm brown, can I just say, 'Yes,' and go ahead or do I have to prove it?" she asked. "I have a bunch of teacher friends who are sick of their kids being discriminated against."
She even invoked the historic Rosa Parks incident in a Facebook exchange.
While most praised Parmely for her actions, some criticized what they saw as disrespect to law enforcement doing their jobs.

"I'm SICK of people claiming that law enforcement is the problem. Until of course you need them," wrote Jaime N Jerry Bevan, who said that her husband is a detective.

Parmely responded, "What was the point of refusing to move to the back of the bus?"

"Enforcing racist laws perpetuates institutional racism," Parmely added in another comment. "I'm sick of helping perpetuate racist laws just because I'm not inconvenienced by them." …

According to a flier from the American Civil Liberties Union, Border Patrol has the authority to stop vehicles at checkpoints and ask questions to verify citizenship.

The flier says that people can exercise their right to remain silent but may be detained if they refuse to answer citizenship questions. Agents cannot detain someone for an extended time without cause.
Parmely broke up her Facebook videos into several installments. In part #6 she writes
Seriously though, this guy interrupted my nap. And what's up with this dude's straight up nationalist propaganda? The philosophy governing our southern border (cuz there ain't none of this shit along the northern border or eastern or western) can be reduced to: Fascism > Terrorism. As if these are the only two choices.
Ah yes, those eastern and western borders. A small section of Maine notwithstanding, the students at Bell are lucky Ms. Parmely doesn't teach geography.
MORE: University preps students for the trauma of a border patrol visit (for a job fair)
MORE: 'F*ck your borders' – Rowdy students protest border patrol agents at campus job fair
Like The College Fix on Facebook / Follow us on Twitter
IMAGE: Shutterstock