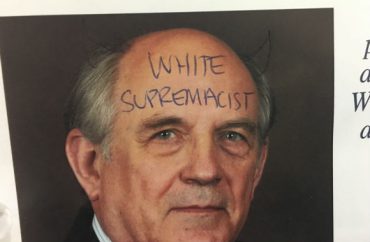 Harvard University students showed their New England peers how to protest a speaker they don't like: get up and walk out quietly.
Libertarian social scientist Charles Murray spoke to an audience of nearly 300 with little disruption at Harvard Wednesday night, a sharp contrast to his greeting at Vermont's Middlebury College last fall, where students and outside protesters threatened him and sent his faculty interviewer to the hospital.
The Harvard Crimson reports that "several dozen undergraduates" protested outside at an event they dubbed "Speak Out Against White Supremacy" (Murray has two half-Asian children, by the way):
Taya Cowan '21, another protester, said she felt that Murray's sentiments should not be welcome at Harvard's campus, and that his invitation reaffirmed her belief that "the world isn't safe" for her as a black woman.
The author of 2012's Coming Apart, a history of the white working class, called the reception he received "way better than Middlebury" and later tweeted his thanks. But Murray also showed annoyance at an audience question asking if he was a white supremacist as alleged:
His response was brusque: "I am sick unto death of trying to prove a negative," he said, adding that he thought his best-known book "The Bell Curve," which claims that disparities in intelligence can be linked to race, does not actually claim that white men are intellectually superior to other groups.

Midway through Murray's talk, about ten students in the audience rose and held signs, one of them reading "white nationalist," before walking out of the lecture to attend a faculty panel organized by the nearby protesters.
Harvard did itself proud. Attentive audience, tough questions, super-professional security. Congrats & thanks to @harvardfree.

— Charles Murray (@charlesmurray) September 6, 2017
At that faculty panel, the Crimson reports, an African American studies professor called Murray a "Confederate statue on wheels" whose work is "empirically discredited, overtly racist, and over twenty years old" – a curious denigration considering Murray had been invited by the student group Open Campus Initiative to discuss the recent Coming Apart, not the 23-year-old The Bell Curve.
Murray wrote about his Harvard experience in The Weekly Standard today, saying that while he wasn't expecting violence like at Middlebury, he was worried "the students would be chanting and wouldn't stop, fire alarms would be set off, and I wouldn't be able to speak."
He praised Harvard, his alma mater, for creating an environment where there were "no holds barred on the questions I was asked" during a half-hour Q&A "and no holding back on my answers":
Harvard has an impressively professional police department. Everything about the security arrangements betokened a team that does this kind of thing all time for everyone from prime ministers to visitors like me, and they know exactly how to do it right. But, crucially, Harvard also has an explicit policy about acceptable behavior in a lecture hall.

A student who disrupts will be warned. Continued disruption will result in expulsion from the hall, forcibly if necessary. And there was every reason for the students to believe that's exactly what would happen.
He suspects that the secret sauce at Harvard is that "the adults were in charge" and "the students knew the adults were in charge, too," unlike during the Yale Halloween costume freakout:
At many universities, the problem is simply that adults aren't in charge. The adults are scared of their students, the students know it, and they correctly conclude that they can get away with almost anything without consequences. …

Last Wednesday, it felt to me as though my alma mater, august Harvard, was making a statement that it takes freedom of academic discourse seriously and that students who interfere with that freedom do so at their peril.
My surprisingly pleasant trip to Harvard. https://t.co/2vrcyt7FjK!

— Charles Murray (@charlesmurray) September 7, 2017
Read the Crimson and Standard articles.
Like The College Fix on Facebook / Follow us on Twitter