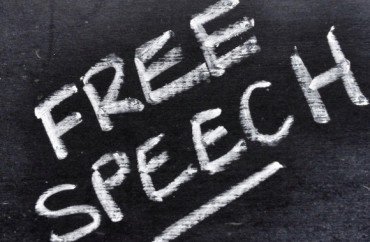 Ohio University announced yesterday a new policy — somewhat ironically titled "Freedom of Expression" — which bans protests and other activist activities inside campus buildings.
The new "interim basis" rules officially were announced this past Tuesday, although they had been in place since the middle of August.
According to The Post, the policy makes more specific the bans on "demonstrations, rallies, public speech-making, picketing, sit-ins, marches, protests, and similar assemblies" inside (university) buildings. A campus press release says this is "a continuation of a 'long-standing prohibition of demonstrations and sit-ins inside buildings.'"
In March, a judge exonerated student protesters who had occupied OU's Baker Center the month before, citing no existing school policy which forbade their actions.
The policy also states "students may reserve space indoors to participate in 'constitutionally protected speech' and activities."
"In the past, demonstrations and sit-ins inside buildings were considered to be disruptive to university operations and our practice was typically to disperse such gatherings," [OU Spokeswoman Carly] Leatherwood said in an email. "The new Freedom of Expression policy was adopted to lend consistency and predictability to the University's handling of these events. "

The university reserves the right to limit use of some indoor and outdoor spaces to only registered students and university groups. It may also segregate protesters at outdoor events to a designated space if the university decides that is necessary to "preserve order and ensure the physical safety of all participants in the event."

The new policy also clarifies the university's definition of disruptive conduct. As defined by the university, disruptive conduct interferes with university employee's abilities to do their jobs, interferes with an authorized event, impedes the flow of traffic or poses a threat to people or university property. The university also defines conduct as disruptive if it stops students from using facilities or participating in academic, research or extracurricular activities.
Feedback on the policy from the Faculty Senate, Student Senate, and other groups is due by October 6.
Several OU alumni commented on new policy via The Post article, all unfavorably:
"Back in my day at OU, this policy would have led to even more student protests," Conni Lewis wrote. "This is embarrassing and probably is a First Amendment violation."
Kay Falkenhan said "I am shocked that my Alma Mater would limit peaceful, free expression. Universities should encourage students in defending their beliefs while respecting differing opinions."
MORE: Ohio U. student leaders demand campus launch bias reporting system
MORE: Ohio U. flips out over 'defacement' of Black Lives Matter message on 'graffiti wall'
IMAGE: Shutterstock
Like The College Fix on Facebook / Follow us on Twitter