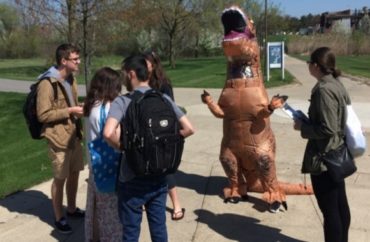 Unions were never subject to pre-approval rules
Dinosaurs are making a comeback in suburban Detroit.
Macomb Community College agreed to let a conservative student group promote fossil fuels in order to settle a federal lawsuit brought by the Alliance Defending Freedom.
The Turning Point USA chapter dressed up one of its members as a T-Rex to hand out literature on campus in April promoting the benefits of fossil fuels and collect signatures. Police threatened them with trespassing charges because they hadn't received the required written permission from administrators 48 hours in advance.
The alliance said Wednesday that the taxpayer-funded college was suspending its unconstitutional policies immediately, including the 48-hour pre-approval, and putting revisions up for a Board of Trustees vote before the semester ends.
They will vote on a proposal to "affirm that all outdoor areas of campus that are generally open to the public, not just small reserved areas, may be used by students to publicly speak with one another without a permit," the alliance said.
The settlement says the board will specifically vote on striking a line from the "Disturbance in Public Place" policy that requires students to get permission for noncommercial expression from "the Vice President of Student Services or his/her designee."
This policy was even more onerous than it looks because the student activists would have to get approval from an administrator on a different campus, the alliance said.
As written, it gave "virtually unlimited discretion to two officials … to decide whether to grant students or a student club permission to engage in speech," which could involve "unconstitutional viewpoint discrimination."
Macomb will pay the student chapter $100 for its troubles, and the alliance $10,000 to cover attorneys' fees and costs. The lawsuit will continue if the board fails to approve the changes laid out in the settlement.
While the college initially claimed its policy "balances the First Amendment rights of individuals with the safety and security of students and visitors" after the alliance filed suit, the challenged policies did not apply to labor unions, meaning they didn't have to ask for permission to express themselves.
Macomb's free-speech zone is just 0.001 percent of the 230-acre campus.
Read the alliance statement and settlement.
MORE: Students sue after cops tell them to stop praising fossil fuels
Like The College Fix on Facebook / Follow us on Twitter