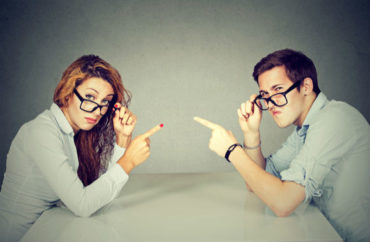 They choose different career paths
Did you know that different groups have different results because of different preferences and career goals?
This is often a controversial position in the academy, but it's been verified in a recent study on the factors behind the "publication gender gap" between men and women in PhD programs.
Inside Higher Ed reports on the study published in Educational Researcher, which queried nearly 1,300 "advance science students from one unnamed Big Ten institution."
It compared men and women in the same programs and how often they submitted scholarly works for publication, as well as differences by academic field:
The authors found that men submitted and published substantially more scholarly works than their female peers. That pattern occurred in both the male-dominated engineering and physical sciences, they note, as well as the more gender-balanced natural and biological sciences and even in the sometimes female-dominated humanities and creative arts and social sciences and applied health fields.
While men were more likely to praise the mentoring they received, the two groups had different goals with regard to their programs:
Men were slightly more likely to report being having been a research assistant at some point (85 percent versus 80 percent). Women, meanwhile, were more likely than men to report having served as a teaching assistant (82 percent versus 76 percent) and report that teaching responsibilities may have impeded their success. Advanced analysis revealed that research assistantships were strong positive predictor of publication submissions, with research assistants submitting 70 percent more manuscripts than those with no such experience. …

Men's and women's stated primary career goals also differed in a subsample of survey respondents. Significantly more men than women hoped to obtain a research-intensive faculty position (34 percent versus 25 percent) or a private-sector position (27 percent versus 12 percent).

"Hence," the paper says, "perhaps men in this study pursued more publication opportunities because they prioritized jobs that require a strong research record."
The only field with no significant gender gap was "education and professional programs."
Female respondents cited their own circumstances for why they had trouble publishing – "family obligations, work or financial commitments, faculty availability, or (to a lesser degree) biased program climate" – but they were also "as likely as men to say that professors supported them in their chosen career paths."
The findings are "disturbing" to lead author Sarah Theule Lubienski, a professor of math education at Indiana University, because they show "strikingly different numbers" for men and women at the same institution, same field and same stage in their careers. She wants to study further why women are overrepresented among teaching assistants.
Possible culprits are that women aren't as good at negotiating authorship or think less of their work than men, or – gasp! – "may have viewed publications as less essential for their future careers than the men," the authors said.
One professor is still determined to see sexism as holding down women in PhD programs. Pomona College's Laura L. Hoopes, a professor emeritus of biology, says "differential mentoring" may disadvantage women:
During her own time as a graduate student, she said, "the men in the lab met with my adviser weekly, I only when I requested a meeting. He suggested that they go to meetings and write papers, but poured cold water on my suggestions along those lines."

Today, Hoopes said, young women "seem to think sexism is over and don't tend to see it even when it's there unless it affects them personally in an unmistakable way.
MORE: Dean reconsiders threat to cancel conferences without gender parity
IMAGE: pathdoc/Shutterstock
Like The College Fix on Facebook / Follow us on Twitter