UPDATED
A large mock-up of the Berlin Wall set up by Young Americans for Freedom at the University of Michigan last week was met with resistance from Black Lives Matter protesters who harassed the students and hijacked their wall.
"Several Black Lives Matter protestors came up, took our can of spray paint, and began spray painting 'Black Lives Matter,' 'F*** White Supremacy,' and other quotes all over the wall. This included blacking out our free speech sticker that was on the wall," Jacob Chludzinski, chairman of the Young Americans for Freedom, told The College Fix via email.
The Berlin Wall mock up connects policies of socialist Soviet Bloc countries with campus political correctness.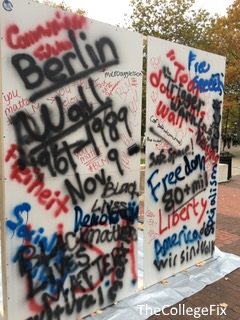 "It was extremely disheartening to see an event focused on freedom and the anniversary of a divided nation joining together, be attacked and some how made about the divided BLM movement," he added. "Our Freedom Week events are aimed to bring students together to thank the men and women who have protected and are currently protecting the freedom of this nation, as well as remember the fall of the Berlin Wall and the victory for freedom that took place that day."
The wall was put out Nov. 9 from 9 a.m. to 5 p.m. Looking back, Chludzinski said, he is not sure why the protesters found the wall so offensive.
"It is still unclear and baffling why the BLM protestors decided to harass our group and event," he said. "The wall that was displayed featured words that were pro-freedom and anti-communism in order to commemorate the fall of the Berlin Wall."
"However, it also included words and concepts that our YAF chapter believes need to be 'torn down' throughout college campuses such as political correctness, safe spaces, etc. These words may have triggered the group, or it is possible that they were trying to prevent our demonstration against the evil acts of communism."
Chludzinski said that in addition to spray painting "BLM" and covering the free speech logo, they spray painted the phrase "You Matter" several times on the wall.
"We found this to be confusing as well, due to our chapter agreeing that each individual matters, should be treated equally, and deserves true freedom," he said. "This is something that our chapter fights for everyday for all students, and something that communism prevented. Our chapter definitely wants answers."
Despite the protest, the wall had a positive impact as well, he said, noting many students expressed support for it too.
"We hope our events during Freedom Week make students stop and think how lucky they are to live in a free world," Chludzinski said. "However, that freedom is not free and we must remember each and every man and woman who sacrificed their lives to protect it."
This is not the first time the free speech wall at the University of Michigan has been protested. In November 2015, the display at the University of Michigan was roundly criticized by many students, with some even declaring that the display constituted a "bias incident."
CORRECTION: A previous version of this article called the wall a free speech wall. The post has been corrected to clarify it is not a free speech wall but a mock up of the Berlin Wall. Student organizers did not allow anyone to write on it other than the YAF members who helped set it up.
MORE: Students protest pro-free speech display at UMich
Like The College Fix on Facebook / Follow us on Twitter