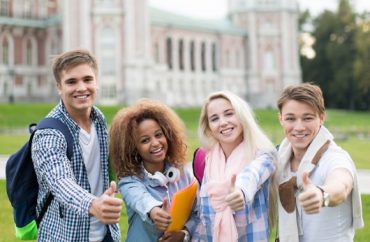 American college life is in a bad way, but there are lights within the darkness
It's not all bad news coming out of the American campus. True, The College Fix's student journalists report on a seemingly inexhaustible procession of ridiculous outrages, from shrieking students organizing yet another protest that costs a public university half a million bucks, to administrators squashing the civil rights of the young men and women on their campuses, to professors and instructors who are outright hostile (if not criminally aggressive) toward any member of the student body to the right of Vladimir Lenin. It is hard to find the sparkle amongst all this gloom.
Just the same: there are promising signs that, at least in the margins (and sometimes more than that), there is a kind of quiet revival taking place on more than a few campuses, a sort of re-alignment of certain values and presumptions and a re-assertion of them into the public life of the university. The students and faculty behind this slow shift are assuredly in the minority, but they do not count for nothing.
Students for Life, for example—the nation's preeminent student pro-life organization—has over 1,000 groups across the country, a great many of them on college and university campuses. Anyone who is aware of the virulent and unbending culture of pro-abortion politics at most colleges cannot help but be heartened by this news. And while there has been an uptick in hostility toward campus pro-life groups in recent months, it is almost assuredly the case that the vigilante and in some cases institutional persecution of pro-lifers serves in many cases to swell their ranks, not diminish them.
There are also promising free speech developments taking place at a number of prominent universities across the country. The chancellor of the University of California – Berkeley has lately been an unapologetic defender of free speech on her campus. Late in the summer several universities were hailed by the Foundation for Equal Rights in Education for changing their free speech policies to better protect student First Amendment freedoms. This fall the Trump administration came down on the side of campus free speech protections. Several months ago Georgetown adopted an "untrammeled" free speech policy. There is, to be sure, a great deal of work to be done in fixing the American campus's free speech problems. But, though these are but a few examples, they are encouraging ones.
Then there is the simple fact that, for all the blustery radicalism one frequently witnesses on campus, many students often seem uninterested in taking part. An anti-fossil fuel group at the University of Pennsylvania, for instance, usually only counts less than 20 attendees at its meetings. Daffy student groups and activists can and often do do a lot of damage, but it is a relief that, in many cases, their relative numbers are small.
We should not, of course, kid ourselves: the American campus is currently in a state of profound dysfunction, and there is plenty left to do to bring it to a more sane and reasonable place. The College Fix will be there doing our part to make that happen. But we might pause for a moment to appreciate that, for all the issues plaguing American universities, there are some recent good developments that point toward a better campus.
MORE: The feds will let colleges use higher evidence standard in Title IX cases
IMAGE: Shutterstock
Like The College Fix on Facebook / Follow us on Twitter