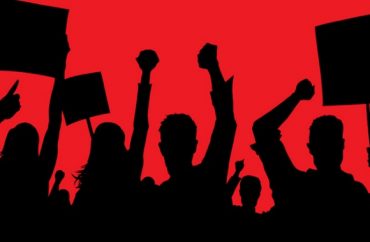 Students occupy university building 'to demonstrate how vital our work is'
Around fifty University of Pennsylvania students recently staged a "work-in" demonstration in order to protest the tax bill currently being debated in Congress.
The demonstration was organized by Graduate Employees Together, "the student group campaigning for graduate students to unionize," according to The Daily Pennsylvanian. The protest took place at Penn's College Hall, mere feet away from the president's office.
The protest was one of three organized by grad students at Penn on the same day.
The silent "work-in" was allegedly staged "to demonstrate how vital" the work of Penn graduate students is. A photograph in The Daily Pennsylvanian shows protesters sitting on the ground working on their computers.
It is unclear how this demonstration proved the "vitality" of the work of Penn grad students.
Over the course of the 90 minutes, about five faculty members stopped by the rally to show their support.

English Department Graduate Chair David Eng said the GOP tax bill and the immigration stances of the Trump administration are discouraging international students from pursuing graduate studies in the United States.

At 2:23 p.m., GET-UP member and history Ph.D. student Emma Teitelman called all the graduate student protestors to attention and encouraged them to call the number of U.S. Senator Pat Toomey's (R-Pa.) D.C. office at the same time.

"We're not going to get through," Teitelman said. "But we're going to leave a voicemail to tell them to vote no on the tax bill."

In the next few minutes, nearly all students dialed the number on their phones. GET-UP member and Biomedical Graduate Studies Ph.D. student Liv Harding said she reached Toomey's voicemail and left a message telling him to vote against the tax plan.
According to The Pennsylvanian, Penn president Amy Guttman "was not in her office when the work-in was taking place."
MORE: Far-left student groups crash, protest Stanford U. admitted students event
Like The College Fix on Facebook / Follow us on Twitter