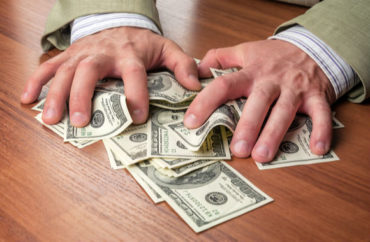 Maybe around the half-a-million-for-a-three-day-inauguration mark?
George Washington University recently spent $500,000 over three days while inaugurating its new president, Thomas LeBlanc. Half a million bucks: that's not chump change, even as it constitutes but a small fraction of the university's total operating budget. Five hundred thousand dollars isn't Beverly Hills money, it's hardly even Georgetown money, but it is certainly a great deal of cash to spend ushering in a new president—particularly at a university whose namesake was among the more outwardly staid and republican men to have ever led this nation, and particularly, as The College Fix reported, after the school has suffered a recent round of budget cuts and layoffs.
One is generally compelled, of course, to avoid judging too harshly that with which one has no experience—and very few of us have any experience in running a university or managing a university's budget. Just the same. There is an uncomfortable, almost unseemly tenor to an institution spending half a million dollars on what amounts to little more than pomp and circumstance. Surely Thomas LeBlanc is a nice man who deserves no small amount of commendation for coming to lead such a prestigious institution. Yet twenty years from now—-even five years from now—will very many people at all say: "Boy, it was such a treat to be at that inauguration in 2017!" If the answer is "No" (and it probably is), then it seems odd to have dropped such a significant amount of money on the event, particularly as the school has suffered financially over the past couple of years.
Viewed from a certain angle, five hundred thousand dollars is very little money—a mere rounding error on the university's more than-$1 billion operating budget for this year alone. Yet one can easily imagine the inverse. Suppose the university proposed cutting that much money from the budgets of several departments; it would doubtlessly not seem so small then.
None of which is to say that institutions of higher learning cannot throw a party every now and then. But universities are also in a position of no small amount of trust; we are led to believe, or at least assume, that they will spend their students' tuition money and government subsidies with wisdom and forbearance. Dropping half a million bucks over the course of a few days on a few dinners and a ninety-minute ceremony hardly seems wise or forborne.
MORE: Public University Hikes Tuition, Meanwhile Spending $400,000 To Relocate One Tree
IMAGE: Vova Shevchuk / Shutterstock.com
Like The College Fix on Facebook / Follow us on Twitter