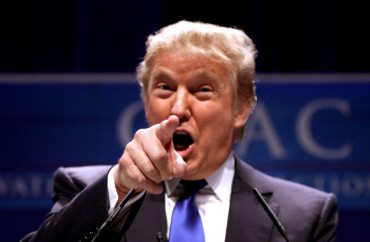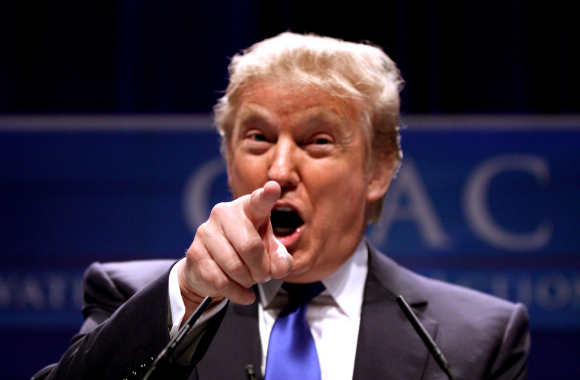 Ever since Donald Trump's victory one year ago, Pensacola State College art instructor Douglas Reiser often has worn his original anti-Trump t-shirts around the local community.
Now he's taking his "peaceful stance" against the president  "a step further" — by putting his creations on display at his school's art department.
What a guy.
According to the Pensacola News Journal, Reiser's shirts are emblazoned with such lively slogans as "WTF? 2016," "Unapologetic Racist Enabler 2017," and "The Emperor Has No Clothes 2017." Small plaques containing "interesting" Trump quotes hang in front of each shirt.
"I left some empty space on each plaque for future inexplicable [Trump] quotes," Reiser said.
But not all of the motivations behind the display are typical of a contemporary academic. Aside from representing the anti-Trump population of the area (which Reiser says is a minority), the exhibit promotes free speech:
To the right of the T-shirt display is Reiser's "free speech zone," featuring a free speech book and unsharpened "free speech pencils." Potential scribblers can sharpen those themselves using a wall-mounted sharpener with the words "resist now" engraved into the front of it.

Reiser welcomes pro or anti-Trump messages in the free speech book.

"This is basically a platform for free speech, for both sides," Reiser said.

Under a cloak of anonymity, people of both political affiliations have already utilized Reiser's platform. The message "Trump sold us his speech and suckers bought it" shares a page with the message "ANTIFA = ISIS/Nazis."

A sentence on another page reads "the leftists don't know the concept of forgiveness. No wonder they try to make white people feel guilty for things they had nothing to do with in the past."

As of Tuesday, Reiser's book has a metaphorically happy ending, with the last message written preaching tolerance: "You can be liberal and pro gun at the same time, but if we want to avoid confusion, get rid of labels and understand that we are all individuals."
Reiser said the display has gotten a "mixed reaction" from students.
"It's been mostly positive, but there's definitely been some blowback," he said.
MORE: Professors strategize ways to teach against Trump
MORE: College investigating 'stab the Trumpkin' incident
IMAGE: Gage Skidmore/Flickr
Like The College Fix on Facebook / Follow us on Twitter