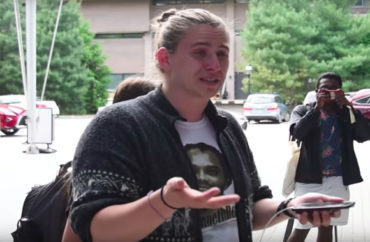 A male Princeton student broke into tears when he and his fellow activists were denied entry into a college staff member's retirement celebration.
Two months ago, Princeton announced a retirement event for Robert Durkee, who had worked at the school for nearly 50 years. The official notice reads "Princeton staff, faculty and community members are invited to a gathering on Friday, May 10."
However, when May 10 arrived, members of Princeton IX Now, a student group dedicated to Title IX reforms, showed up at the event and were denied entrance by university-appointed "Open Expression Monitors." These monitors, according to The Daily Princetonian, are staff from the Office of the Dean of Undergraduate Students tasked with "protect[ing] free speech and allow[ing] controversial speakers to safely visit campus."
However, the Princetonian editors say the monitors "now impede student expression against the administration." But … what expression was prevented at the Durkee event? The eyebrow-raising moniker of "Open Expression Monitors" notwithstanding (for now), it's fairly obvious the Princeton IX Now activists just wanted to make a scene at Durkee's celebration, especially given recent history. Not to mention, the man-bunned student who ended up in tears kept going on about his free speech rights being denied — a good indicator that he and his activist peers weren't planning to just sit there and listen to Mr. Durkee's half century of accomplishments.
Remember: It's not free speech if you're impeding those very same rights of others, especially at a planned event which has absolutely nothing to do with what you have a beef.
In their editorial, the Princetonian editors cleverly avoid noting that Durkee's "reception" was merely a retirement event, nor do they mention Durkee's name. Perhaps that's because he hasn't been involved with any Title IX controversy.
Also, why title the editorial "We Can't Speak Freely" if Princeton IX Now's purpose was simply attendance at the reception?
But these Open Expression Monitors, especially the blue-shirted one featured in the above video, needed to be consistent. At the beginning of the vid, the main monitor uses the word "private" to describe the Durkee event. It was not advertised as such. Later, the same monitor quibbles over the wording of the online invitation, noting it doesn't say "students" were invited. It does, however, say "community members" and "the public"; don't Princeton students fall into both categories?
Given the technicality, unless the activists openly stated their intention was to protest (which is not apparent in the video, only a more nebulous concern about their "free" speech), why not allow them into the event … and if disruptions arise, kick them out?
Read the Princetonian editorial.
MORE: 'Cry Closet' installed at University of Utah
MORE: Cornell students hold 'Cry In' over Trump victory
IMAGE: The Daily Princetonian / YouTube
Like The College Fix on Facebook / Follow us on Twitter