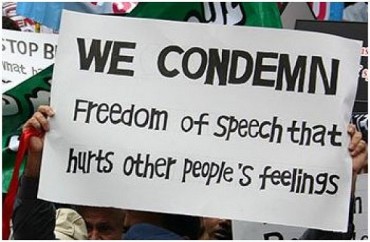 A white Princeton University student who responded to an old black acquaintance's Facebook comment with the N-word  (without the R) is now dealing with demands that he face disciplinary action.
According to The Daily Princetonian, Tyler Eddy had been debating Malcolm Slaughter about Black Lives Matter-related issues for a few weeks. At one point, Slaughter wrote to Tyler "We know you hate niggas, we get [sic], we're violent and we kill one another."
After noting that Malcolm wasn't violent, Tyler replied that his old associate — a former prep school student — should get his head "out of the clouds" so that he could then "speak for the niggas."
Make note that Slaughter used the reference first.
This didn't matter, however. Soon after, a Princeton student took to the Instagram page @blackivystories to write he was "totally shocked" Eddy was allowed to make such remarks "so openly and without any repercussions from the University."
Eddy, the student continued, "has previously sent out mass emails on his racist and privileged views on BLM," and has defended his use of "nigga" because "if Black people can use it, he should be able to as well."
Princeton student Sarah Elkordy followed course, starting a Change.org petition which demands Eddy face a university discrimination hearing.
"Since the University has not yet responded," the petition reads, "this […] is here to bring even more attention to the matter and hold all students on campus accountable for their words and actions, especially when discriminatory against marginalized peoples."
Petition comments claim Eddy has "a track record of disregarding the opinions and livelihoods of POC," that he's been "terrorizing" minority students with a "blatant disregard for [their] well-being," and that his comments are a "violent and offensive campaign against the Black community."
After two weeks, the petition remains approximately 1,000 signatures from its goal of 2,500.
Other students took to the Princetonian's op-ed pages to complain about Eddy's use of a word which "reflects America's 400+ year history of the oppression and disenfranchisement of Black people." The piece makes use of the critical race theory-created contention that free speech is not "guaranteed equally," nor does it take into account "harm inflicted."
Indeed, the university stated Eddy's remarks did not violate any Princeton policies. Even though the school has more leeway in regulating speech (as a private institution), Vice President for Campus Life Rochelle Calhoun noted that in "certain instances" slurs of a racial, ethnic, or gender nature are protected expression.
For his part, Eddy said he "made a mistake" with his comments and "regrets the harm" he may have caused. But he remains steadfast in his right to use the N-word.
"There's people that strongly believe my use of the word, with just as much moral conviction, shouldn't be considered wrong because of the direct way that a Black man had stated at first and a white man parroted it," he said.
On Friday, Eddy took to Facebook for more self-defense:
MORE: Princeton prof who challenged prog demands honored for intellectual freedom
MORE: Princeton students cyberbullied, called racist for defending academic freedom
IMAGE: Sam Graham / Flickr.com
Like The College Fix on Facebook / Follow us on Twitter