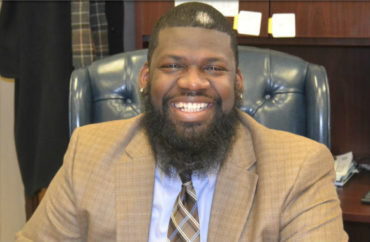 'We have to teach some of them how to do that'
Public schools in poorer districts prefer to give a man a fish, as the old saying goes: free meals for students, even from higher-income families.
But one principal in New Jersey is teaching his students how to fish, and reducing his school's 85 percent truancy rate in the process.
The Washington Post reports that Principal Akbar Cook learned that many students weren't showing up to West Side High School because they were being mocked – in class and online – for wearing dirty and smelly clothes:
Two years ago, a 16-year-old student entered through the school's metal detectors. As security stopped to check her bag, Cook said she argued with the men and threw her water at them. She didn't want anyone to see what was inside her bag. After the cops came to see what was happening, they looked in the student's bag and found something unexpected: dirty underwear and clothes.

"She was homeless that weekend and didn't want anyone to know," Cook said.
The principal applied for and won a $20,000 grant from a state utility charitable foundation. The school's new "mini laundromat" opens next week.
Set up in its old football locker room, the laundromat includes five washers and five dryers. Cook said donations of detergent are pouring in from all over New Jersey and the U.S.
Lest students get frustrated with learning how to do laundry, goof off or fight each other in this new space, an adult staff member will be there at all times it's open – after school three days a week:
"Some kids don't know how to do laundry," Cook said, recalling one instance in which a young man put too much detergent in a load. "We have to teach some of them how to do that."
In a district that already suffers from high violence rates among young people, you may think that help with laundry is a distraction. But perhaps students will have less to mock and get angry about if everyone comes to school "smelling like Tide every day," as one student told NJ.com.
Read the Post and NJ.com reports.
MORE: Unpaid debts soar after Denver schools end 'lunch shaming'
IMAGE: Newark Public Schools
Like The College Fix on Facebook / Follow us on Twitter