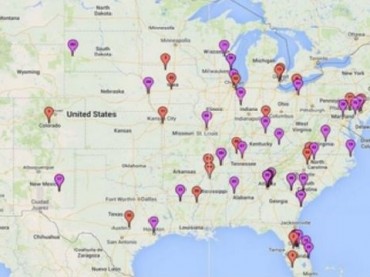 A list of so-called "school shootings" published this week that claimed there have been 74 such incidents since Dec. 2012 – which would average out to more than one per week – has been exposed as a fraud.
The list was put out by Everytown for Gun Safety, a pro-gun control group formed by former New York City Mayor Michael Bloomberg and other prominent gun control advocates.
"Since the December 2012 shooting in Newtown, CT, there have been at least 74 school shootings in America," states the group on its website. "How many more before our leaders pass common-sense laws to prevent gun violence and save lives?"
About half of the citations on the list took place on college campuses, and the rest at K-12 schools. After it was published, a map of America that indicated where each of the shootings took place was spread by mainstream media outlets all over social media Tuesday.
That's when freelance journalist Charles C. Johnson used his Twitter feed to call out each citation on the list, pointing out how they either involved suicides, were gang- or drug-related incidents, involved spats between lovers or friends, took place off campus, or were connected with police matters that randomly ended up on a school campus.
Here are some of the Tweets:
Fake "school shooting" at Georgia Gwinnett College was suicide attempt. http://t.co/ML7cTDZIbF

— Charles C. Johnson (@ChuckCJohnson) June 11, 2014
Pair of shootings at Paine College listed by Everytown are drug related. (Everytown gets location of college wrong.) http://t.co/yhlm5CySoW

— Charles C. Johnson (@ChuckCJohnson) June 11, 2014

Johnson, in an interview Wednesday with The College Fix, said that in all, only about a half-dozen or so examples on the list could truly be categorized as a "school shooting" as far as most Americans interpret the expression.
He added Everytown for Gun Safety clearly sought to hype the issue to further its gun-control goals by making it seem like mass school shootings and killings are commonplace.
"It's really kind of sick to basically prey on people's emotions about something that is a really traumatic thing," he said. "If you make mass killing seems so common place all the time, you make people terrified and worried, particularly mothers who are very emotional about their little kids."
"Whereas statistically speaking, your child is more likely to die falling down the stairs, or in the bathroom, or kitchen, or swimming pool."
Johnson also chided the mainstream media for reporting on the list before probing it further.
"I am kind of embarrassed by journalists that (tweeted that) map," he said. "The Boston Globe, LA Times, New York Daily News, CNN – you go down the list, MSNBC, Ezra Klein – who is supposedly running this big data site – they are tweeting this map."
But now some mainstream news organizations question the list.
In a CNN report published late Wednesday and headlined "A closer look: How many school shootings since Newtown?" CNN reported that only about 15 incidents Everytown included on its list could be construed as school shootings as they are widely understood.
"That works out to about one shooting every five weeks," CNN reports.
Everytown for Gun Safety has yet to respond to the criticism.
Jennifer Kabbany is associate editor of The College Fix. ( @JenniferKabbany )
Like The College Fix on Facebook / Follow us on Twitter
IMAGE: Internet screenshot