UPDATED
A professor who called for every "last cop" to be strangled says he is now dealing with death threats, vandalism and doxxing attempts.
Earlier this month, Midwestern State University philosophy professor Nathan Jun wrote on a Facebook thread "I want the entire world to burn until the last cop is strangled with the intestines of the last capitalist, who is strangled in turn with the intestines of the last politician."
The comment also included a link to a YouTube video which now appears to have been taken down.
According to KFDX/KJTL, the university stands behind Jun's right to make such statements on his own time: "Occasionally individuals will express opinions that may be offensive and even shocking, but are nonetheless entitled to First Amendment protection. When our faculty members speak or write as citizens within the confines of the law, they are free from institutional censorship or discipline."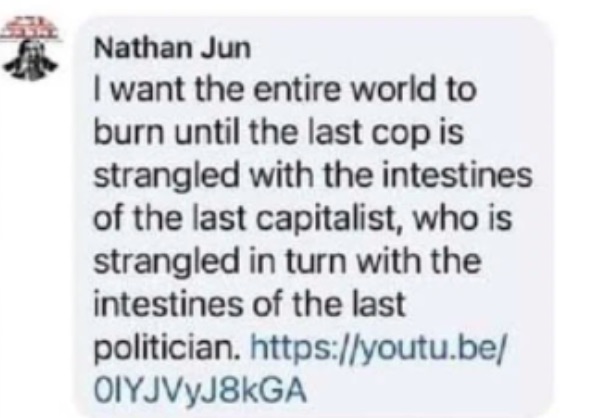 Jun praised MSU for backing his free expression rights; however, he is upset at the general reaction to his remarks. Jun blames KFDX for not providing "context" to his original comments which he says "helped gin up the latest in a long line of violent, hysterical attacks against [his] person and property":
In the past 24 hours alone I have received hundreds of death threats (most of them virulently anti-Semitic in nature) by phone, email, text, and private message and my home has been vandalized for the fifth time since June. The harassment has been so intense that I have been compelled to relocate to a hotel for my own safety. …

It is only because we are living in the midst of a phony, ginned-up hysteria (known by scholars as "The Antifa Scare") that the local right has decided to go after me. As a person who doesn't own a gun or have criminal record—and who belongs to a member of a historically persecuted group that is greatly underrepresented in Wichita Falls—I am very clearly an easy target for them.
What's giong on with Nathan Jun pic.twitter.com/YejzKzC8bH

— Dead Legendre (@Daedcretan) September 26, 2020
On October 1, Jun released a statement to further clarify the issue. He said his comments were never were intended to be public ("it was posted in response to a private post on a (local) friend's page"), and claimed they "do not threaten anyone with violence, nor […] call on others to commit violence."
He also asserted the remarks were "tongue-in-cheek" which are "typical of the kind of banter and inside jokes" he uses with the friend in question.
According to his faculty page, Jun teaches the courses "Philosophy of Race and Racism," "Philosophy of Horror and Macabre" and "Multicultural Philosophy."
On October 2, Midwestern State President Suzanne Shipley said in a statement that the university has discussed the matter with the Texas Attorney General's office and will "take decisive action" if it's determined Jun's speech is not protected by the First Amendment. In addition, no students will be "required to enroll in or complete" any of Jun's classes.
UPDATE: Statements from Jun and Midwestern State President Suzanne Shipley were added.
MORE: Pressure mounts to fire professor who said cops 'need to be killed'
MORE: Auburn profs show support for local cops by buying them 70 lunches
IMAGES: Krakenimages.com/Shutterstock, Twitter screencaps
Like The College Fix on Facebook / Follow us on Twitter