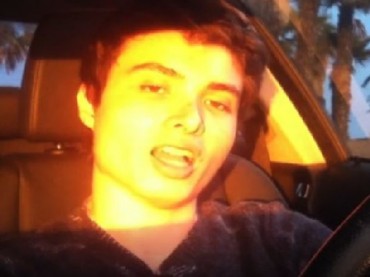 A professor has linked the misogynistic mindset of UCSB assailant Elliot Rodger with the "strict gender roles" found among Christian conservatives.
While the educator acknowledged Rodger was not directly influenced by Christianity in an opinion column she penned Tuesday for ReligionDispatches.org, the professor asserts he was influenced by the modern day pick-up artist culture, which she says shares similar viewpoints on gender roles with conservative Christianity.
"Many commentators have discussed the 'pick up artist' (PUA) culture in which Rodger's ideology is based, but broader cultural forces shape the exaggerated ideas of gender roles that are the foundation of Rodger's misguided notions of masculinity and entitlement—including most conservative Christian constructions of strict gender roles," writes Devin Kuhn-Choi, assistant professor in the religious studies program and the women's and gender studies department at Cal Poly San Luis Obispo.
"Though they approach beliefs about masculinity from different perspectives, both PUA and contemporary portrayals of conservative Christian masculinity share some similar points," she continues. "… What I want to suggest through these comparisons is a larger cultural framework that shapes American notions of masculinity and sexuality."
Frameworks, essentially, that also helped shape Rodger's views on women and his own perceived masculine shortcomings.
Much of Kuhn-Choi's 1,600-word piece delves into the alleged similarities between the pick-up artist culture and conservative Christianity's views on masculinity, women, sex and marriage.
"In both conservative Christianity and PUA movements, the man is in charge: the leader, the head of the household, the provider," she writes. "The counterpart to the male leader is the submissive woman."
While Kuhn-Choi acknowledges there are differences between the two world views, she notes "both portray women as the 'keepers' of sex and men as uncontrollable sex machines, constructing strikingly similar images of masculinity."
She added Christianity encourages the sex-gatekeeper role for women, while the pick-up artist culture repeatedly blames women "as the reason men aren't getting all the sex they want" – but that both link masculinity with an insatiable sex drive that shapes sex as something to which men have a right.
"Of course, versions of Christianity that espouse essentialist notions of gender presumably do not intend for them to be taken to the point of Rodger's extreme misogyny," Kuhn-Choi concludes. "Yet the insistence on strictly differentiated gender roles in both conservative Christian and PUA cultures can lead to inequality, a devaluing of women and, in an already patriarchal society, a definition of masculinity that isn't just a nightmare for men, but a tragedy for all."
Jennifer Kabbany is associate editor of The College Fix. (@JenniferKabbany )
Like The College Fix on Facebook / Follow us on Twitter
IMAGE: YouTube screenshot