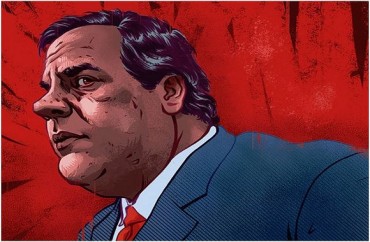 The governor of New Jersey — who is known for his love of The Boss (Bruce Springsteen, natch) — said recently that Bon Jovi is his first musical preference.
Perhaps this revelation is, in part, due to the Jersey rocker granting the governor permission to use his music whenever he wishes.
The Bergen Record's Jim Beckerman gathers up some "experts" to see what the deal is:
"At least he's going for another Jersey group," said music historian Dennis Diken of Wood-Ridge, who also happens to be the drummer for another classic Jersey band, The Smithereens.

"Maybe he's a little crestfallen that his hero [Springsteen] is not acknowledging him," Diken said, of the choice he made during [Laura] Ingraham's video segment, "This or That," posted this week on her website LifeZette.

"There's no strategic move, strategic value in this," said Patrick Murray, director of the Monmouth University Polling Institute. "It seems personal."

If anything, this change of rock stars in midstream might hurt Christie politically — at least among voters who think that the songs on a candidate's iPod have some bearing on the job of commander in chief.

"It's absolutely meaningless, what he did, but it helps this narrative of him being a flip-flopper," Murray said. "It may backfire on him later."
Stan Soocher of the University of Colorado who specializes in music and the entertainment industry, adds that artists who have a beef with politicians using their songs without permission usually prevail in court. Thus, Christie getting Bon Jovi's thumbs up nixes any potential embarrassment, as has happened to other politicians who have used tunes not approved by their respective creators.
While Christie never suffered that particular predicament with The Boss (he was "merely" mocked by him on an episode of "The Jimmy Fallon Show," is all), Ronald Reagan sure did when he used "Born in the USA" during his 1984 campaign.
Here are some others:
Bobby McFerrin complained about George H.W. Bush appropriating "Don't Worry, Be Happy" in 1988. Sting objected to George W. Bush using "Brand New Day" in 2000. Bon Jovi objected to Sarah Palin's use of "Who Says You Can't Go Home" during John McCain's 2008 campaign. Twisted Sister complained about Paul Ryan's use of "We're Not Gonna Take It" during Mitt Romney's 2012 campaign. Tom Petty was angered by Michele Bachmann's making free with "American Girl," also during the 2012 campaign.
Of course, all these politicians are conservatives to one degree or another, while the artists are left-leaning.
By the way, if you've ever wondered how conservative talk radio king Rush Limbaugh gets away with using The Pretenders' (whose leader, Chrissie Hynde, is a big liberal) "My City Was Gone" as his introduction theme song, here's the story from the big guy himself.
Like The College Fix on Facebook / Follow us on Twitter
IMAGES: Eugene Smith, Marco Maas (pre-meme)/Flickr