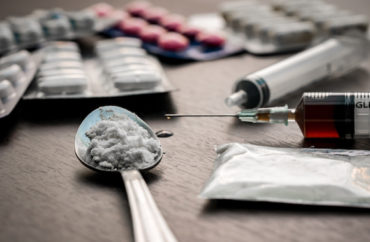 Ivy League scholar argues that the right to get high is as American as apple pie
Columbia University psychology Professor Carl Hart argues that doing heroin is a civil right and should be legal.
He makes the case in his new book, "Drug Use for Grown-ups: Chasing Liberty in the Land of Fear," as well as in recent interviews on the subject.
Hart, who also has said and wrote that he personally enjoys the recreational use of heroin despite withdrawal symptoms, told Business Insider that "Our founding document guarantees us at least three birthrights: life, liberty, and the pursuit of happiness."
"Those ideals are profound. It means that you can live your life as you choose. And it's nobody's business, as long as you do not interfere with anybody else doing the same."
The book's Amazon description states Hart "is one of the world's preeminent experts on the effects of so-called recreational drugs on the human mind and body. Dr. Hart is open about the fact that he uses drugs himself, in a happy balance with the rest of his full and productive life as a colleague, husband, father, and friend."
"In Drug Use for Grown-Ups, he draws on decades of research and his own personal experience to argue definitively that the criminalization and demonization of drug use–not drugs themselves–have been a tremendous scourge on America, not least in reinforcing this country's enduring structural racism."
That last sentiment should come as no surprise to longtime College Fix readers.
A 2016 College Fix feature on Dr. Hart's philosophies and activities was headlined: "Black Ivy League professor: 'I would much rather my children interact with drugs than with police.'"
The article stated in part:
Psychology Professor Hart writes that drug effects are "predictable," but encounters with police "often" end with dead black people.

Dr. Hart, the first black professor tenured in the natural sciences at Columbia University, teaches a psychology course titled "Drugs and Behavior," and is known for his research in narcotics and drug addiction – both from a scholarly angle as well as personal experience.

"I speak candidly about my past and who I am," Hart writes in the op-ed. "In fact, 'High Price,' my science memoir, is one of the required readings for [my] course. In it, I detail my imperfections and past drug use and sales. I also lay out a blueprint for how one can succeed as a scientist and academic in a world that despises one's people."

Indeed, Dr. Hart – according to his opinion piece – believes America is a "white-controlled world," calling it a "wretched reality." He writes that victims of police shootings have their reputations "dragged through the mud" and that police are rarely held accountable, and with that every black American is essentially told "your life is worthless compared with a white person's."
Whether his ideas gain steam is questionable.
The New York Post reports that while "recreational-drug enthusiasts may salute Hart, the medical and addiction community may find the prof's utopian approach less than ideal. According to the CDC, in 2018, nearly 15,000 people died from drug overdoses involving heroin in the US."
But Hart argues the right to get high is as American as apple pie.
An excerpt from his book states:
I am an unapologetic drug user. I take drugs as part of my pursuit of happiness, and they work. I am a happier and better person because of them. I am also a scientist and a professor of psychology specializing in neuroscience at Columbia University, known for my work on drug abuse and addiction. It has taken me more than two decades to come out of the closet about my personal drug use. Simply put, I have been a coward. The philosopher John Locke once noted that pursuing happiness is "the foundation of liberty." This idea is at the core of the Declaration of Independence, the document that gave birth to our nation. The Declaration asserts that each of us is endowed with certain "unalienable Rights," including "Life, Liberty and the pursuit of Happiness," and that governments are created for the purpose of protecting these rights. The use of drugs in the pursuit of happiness, in my view, is arguably an act that the government is obliged to safeguard.
As The College Fix previously reported, according to CULPA (a website for anonymous student reviews of Columbia professors), several students in 2016 expressed that Hart would offer pro-drug propaganda in his course, "Drugs and Behavior."
In 2014, Hart told Democracy Now, when asked what he says to young people about drugs and alcohol, that "I think of these things just like I do any other potentially dangerous behavior, like driving an automobile."
"I make sure that I educate my kids on how to be safe in driving their car, how to be safe when they have sex. The same is true with drugs," he said. "I make sure I let them understand the potential positive effects, the potential negative effects, and how to avoid the potential negative effects."
MORE: Hart–'I would much rather my children interact with drugs than with police'
IMAGE: One Photo / Shutterstock
Like The College Fix on Facebook / Follow us on Twitter