Leave it to an academic — again — to kill the fun.
Rutgers University-Camden's Stuart Charmé, a "specialist in the psychology of religion" with a "particular interest in the religious ideas of children," took to the pages of The Philadelphia Inquirer last week to complain about a female "Sexy Mr. Rogers" Halloween costume. (That's right, the Mr. Fred Rogers of PBS children's programming fame.)
"It's a sad day in the neighborhood," Charmé writes. "It amazes me time and again that, despite this post-#MeToo moment, when gender equality is increasingly championed, Halloween remains a holiday when commercial costume makers emphasize traditional gender roles for children and the sexualization of women."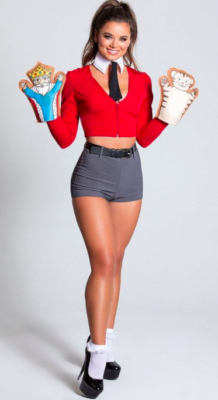 Charmé's class on gender, sexuality, and religion covers how religion "establish[es] and maintain[s]" gender roles. He says he is "struck" by how Halloween "celebrates" this:
Take a stroll through any Halloween store and you'll notice these norms in plain view. Aisle after aisle, costumes are precoded to delineate those for boys and girls, and any uncertainties are quickly allayed by the models on the packages. If children don't choose accordingly, they become aware at an early age that they are doing something considered inappropriate and different from their peers.

Worse yet, as children grow older, commercial costumes offer different models for adolescent boys and girls. "Sexy Mr. Rogers" sums this up perfectly. Boys' costumes express power and agency, while girls' versions emphasize beauty and sexual appeal. A large number of Halloween costumes are inspired by comic book/movie superheroes. Boys' costumes offer extensive choices and possibilities for instant muscles and superhuman powers. Not so much for girls. Their limited options usually include extra ruffles and ribbons for younger children, and tighter-fitting, revealing, and sexualized costumes for older ones.
The holiday should be "transgressive" as the "violations of our social norms go back to the origins" of Halloween, Charmé adds. This is certainly accurate; however, is the professor unaware of what Halloween has become over the last decade or so … especially on college campuses?
How hard is it these days to imagine a boy, especially a stereotypical "jock," dressing up a girl and then being chastised as "transphobic"? Heck, last year an academic told white kids they shouldn't dress up as the fictional superhero Black Panther because "white privilege."
My friends and I used to dress up as "bums" back in the day; today that would be considered "classist" (among other "-ists") as it insults the homeless.
Exactly one year ago, I offered up four tips for choosing a Halloween outfit:
1) NEVER listen to advice from a college student, professor, or campus "official."
2) Costumes based on movie characters are TOTALLY ACCEPTABLE (especially for kids) for anyone of any race.
3) If you have any doubts about a costume's appropriateness (excluding guidance from those listed in rule #1 or one based on rule #2), choose something else.
4) Don't be like this idiot and claim you're just dressing up as "historical figures."
Remarkably, The Inquirer allowed comments for Charmé's piece; be sure to entertain yourself by reading them.
MORE: Don't listen to academics when it comes to Halloween
MORE: College athletes undergo diversity training for 'insensitive' Halloween costumes
IMAGE: Viktoriia Hnatiuk / Shutterstock.com, Twitter
Like The College Fix on Facebook / Follow us on Twitter