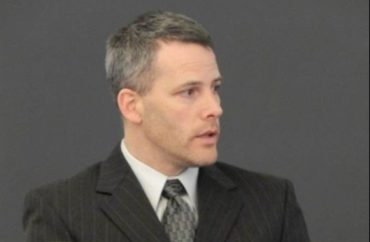 UPDATED
'Arbitrary and capricious' decision was made to 'appeas[e]' radical activists
Last fall we told you about a history professor at St. John's University who was banned from teaching (even at the invitation of other faculty) for leading a classroom discussion about the "Columbian Exchange."
One student in the class accused Richard Taylor – a Marine Corps reserveman, former New York City cop and first responder during the Sept. 11 terrorist attack in New York – of promoting slavery because he asked students to weigh the pros and cons of hundreds of years of global trade.
A radical campus group led a social media campaign against him, instigating another 300 "misconduct" complaints.
The Catholic university in New York City found Taylor (above) responsible for violating its "Bias, Discrimination, and Harassment" policy and terminated the adjunct professor via Zoom meeting.
This was likely in no small part because SJURadicals was also leading an unrelated campaign against the university investigator, Title IX Coordinator Keaton Wong, for allegedly turning a blind eye to alleged "child abuse" by a former administrator.
Taylor finally sued the university, Wong and interim Dean Gina Florio last week under a New York law known as Article 78, which lets plaintiffs challenge "arbitrary and capricious" decisions even by corporations such as a private university.
The Foundation for Individual Rights in Education, which had warned St. John's about its deficient investigation and curious findings, said Taylor is using the same law at issue in an ongoing lawsuit against Fordham University by a pro-Palestine student group.
MORE: Guilty of harassment for asking students if global trade has been good
FIRE noted another complication from the university's sanctions: The ban on teaching would seem to halt Taylor's doctoral program at SJU, which requires teaching. (The lawsuit says Taylor "is also a fully matriculated graduate student" but doesn't say how the sanctions affected his program.)
It took only three days from the class session on the Columbian Exchange for Taylor to be notified that he would be suspended. He characterized Wong's resulting investigation, under the pressure of the SJURadicals social media campaign, as "in name only":
At no time was Taylor informed of the specifics of the complaint against him, or the person making it, or any witnesses supposedly supporting it, or the evidence against him. At no time was he even informed how he had supposedly violated Policy 704 [the bias policy]. He was not permitted to present any witnesses to refute whatever allegation was being made against him.
The university ignored its own procedural protections including notice, an impartial investigator, the right to submit a written response and confront witnesses, and a "clear and convincing" evidence standard, he claims. These are laid out in the faculty union's collective bargaining agreement, which also explicitly protects a "member's academic freedom … in all instances."
Wong refused to contact a black student in the class, recommended by Taylor, who had challenged SJURadicals' false claims against him, and the investigator instead relied on the "form letters" from SJURadicals' campaign.
The "bogus investigation" and his termination were "arbitrary and capricious, an abuse of discretion, lacking in a rational basis, infected by an error of law, and unsupported by substantial evidence," the suit argues.
Investigator refused to interview his students about the class
Taylor puts the onus on the university for approving his "tweak[s]" to the syllabus for History 1000C, a mandatory undergraduate course that he had taught for five years but did not design. His tweaked syllabus literally said students would study "the impact of Western domination (both positive and negative) on the non-Western world."
Before the Sept. 7 class discussion on the Columbian Exchange, "no student had ever complained about" Taylor or claimed his teaching violated the bias policy. Administrators sat in on his courses once a semester to judge whether he needed "additional supervision" – a condition that never happened.
SJURadicals posted "more than 20 items" defaming him, including that he was a "racist predator" (left), had "an extensive history of dangerous predatory behavior" and was the subject of "multiple biases reports [sic]" by students and faculty "in the last three months," according to the suit. The group called him a "threat to the safety" of nonwhites at St. John's.
Not only did Wong refused to give Taylor the specific allegations against him, but the investigator also said the university could judge him guilty "without identifying what aspect of SJU's policies he had violated or what conduct by him violated the policy."
The university took a completely different approach to SJURadicals' allegations against Wong, which followed two weeks later. Its counsel ordered the activists to "immediately remove" posts that "recklessly malign" Wong because they didn't provide evidence that a court or regulator had made findings against her.
Thus, it took a hypocritical approach that threatened to pursue defamation claims against SJURadicals for its treatment of Wong, while allowing "form letter submissions" from non-students as "probative evidence of wrongdoing" in Taylor's case.
St. John's violated commitments in its academic freedom policy, mission statement, human resources manual and employee handbook in Taylor's proceeding, he claims.
MORE: St. John's bans Taylor from guest-lecturing, too
Wong's Oct. 5 findings letter falsely claimed that Taylor had "asked students to justify slavery and discuss the positives and negatives of slavery; positively attributed slavery to diversity in America; singled out Black students; and stated that Black students would not be present without slavery."
It didn't identify complainants or witnesses or the specific section of Policy 704 he violated, and never tried to "square" its supposed findings with Taylor's written presentation, including the slides that "plainly state" the questions at the heart of the Columbian Exchange, the suit says.
He was not allowed to bring a lawyer to the Oct. 9 Zoom meeting where he was fired, though a university lawyer was present. Interim Dean Florio not only banned him from teaching, even as a guest lecturer, but also said he wouldn't be rehired for the spring semester.
"The meeting lasted approximately five minutes," with Florio refusing to answer questions about the accusations or investigation at the direction of the university lawyer. The university also never put its decision or sanctions from that meeting in writing.
The university's disinterest in the truth was evident from its refusal to interview students from Taylor's class, including the black student who publicly defended him against SJURadicals and others who signed a petition demanding his reinstatement, the suit says.
Because Wong "had every incentive to try to protect herself by appeasing the Radicals," she could not be considered "a neutral factfinder" in Taylor's proceeding: She should have been removed as soon as SJURadicals targeted her by name, a few days before the findings letter.
Taylor also says he was a more politically attractive target for punishment as "a white male with a police and Marine background," as evidenced by the university's "differential treatment" of the accusations against him versus Wong.
He's asking the New York trial court to order the university to "expunge all entries of the adverse determinations, findings, discipline, and employment actions" against him, and restore him to his "status" before the investigation started, along with attorney's fees. (Taylor often puts "investigation" in scare quotes.)
CORRECTION: The first paragraph initially referred to a similarly named institution, but not the correct one. It has been fixed.
MORE: University clears prof for writing pro-colonialism article
IMAGES: Foundation for Individual Rights in Education, SJURadicals/Instagram
Like The College Fix on Facebook / Follow us on Twitter