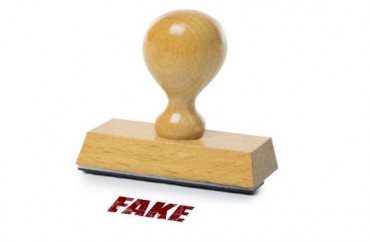 Republican Donald Trump's surprise election is leading some people to re-evaluate where they seek out news – and others to tell people where not to seek out news.
The Los Angeles Times reports that Merrimack College Prof. Melissa Zimdars has published a list of websites that she considers "False, Misleading, Clickbait-y, and/or Satirical 'News' Sources."
Several might be familiar to conservatives and pro-Trump readers, including:
at least three associated with radio host and conspiracy theorist Alex Jones

Breitbart (which produced White House chief strategist Stephen Bannon)

Ben Shapiro's Daily Wire

James O'Keefe's Project Veritas

LewRockwell.com

BizPacReview

IJR (Independent Journal Review)

Glenn Beck's The Blaze

Red State, formerly the home of radio host Erick Erickson

Liberty Unyielding, where former Department of Education lawyer Hans Bader publishes

Twitchy, a "social media curation site" that's a sibling to Red State

World Net Daily, which started during the Clinton administration

ZeroHedge
Erickson, a Never Trump-er who founded non-blacklisted The Resurgent after he left Red State, is pretty pissed.
Liberal Professor Melissa Zimdars and the Los Angeles Times Try to Blacklist Legitimate News Sites https://t.co/0sFiZvLt0F

— Erick Erickson (@EWErickson) November 16, 2016
The list, which was only published Monday, has its share of apparently left-wing sites as well, and it includes explicitly satirical sites such as The Onion and its sibling Clickhole (a spoof of BuzzFeed) and The Daily Currant.
Zimdars, who originally created the list for her communication students at Merrimack (and does not tweet publicly), explained the inclusion of satire in a preface:
[They] can offer important critical commentary on politics and society, but have the potential to be shared as actual/literal news. I'm including them here, for now, because 1.) they have the potential to perpetuate misinformation based on different audience (mis)interpretations and 2.) to make sure anyone who reads a story by The Onion, for example, understands its purpose.
The professor split her list into four categories late Tuesday night after it had gone viral, clarifying why each source is listed:
"distorted headlines and decontextualized or dubious information"

"misleading and/or potentially unreliable information"

"clickbait-y headlines and social media descriptions"

"purposefully fake" (satire/comedy)
Not all of the sites are currently marked by category, though. Of the above-listed conservative or pro-Trump sites, only Jones's InfoWars ("distorted" and "misleading"), Breitbart ("misleading" and "clickbait-y"), Red State and Twitchy ("clickbait-y") and the satire sites have specific categories.
Here's why Melissa Zimdars decided to make that now-viral Google doc calling out fake news sites https://t.co/1q2fZD5D4P pic.twitter.com/bTdTkXwYPY

— Pacific Standard (@PacificStand) November 16, 2016
Zimdars has also removed six sites from the listing as of Wednesday afternoon, highlighting them "Website Removed (temporarily)," and she belatedly put a disclaimer at the top to explain her intentions:
Many of the websites on this list continue to offer valuable journalism and/or satirical commentary. For example, a website included on this list wrote an overall thoughtful piece about the list, but the headline suggests that every source on this list is fake, which misrepresents the list. Finally, I do not condone plug-ins that automatically block any of the websites listed below. And as a reminder, not all of the sources listed below should be considered fake.
She explains in several updates to the list that she has received "hundreds" of emails with suggested sources, with "very few duplicates," and that she's getting assistance from "A group of AWESOME librarians" to provide more detail and examples of problematic content on the list.
Agree or disagree with any given entry on her list, Zimdars makes a good point when she explains why she isn't recommending sites that she personally trusts:
Even typically reliable sources, whether mainstream or alternative, corporate or nonprofit, rely on particular media frames to report stories and select stories based on different notions of newsworthiness. The best thing to do in our contemporary media environment is to read/watch/listen widely and often, and to be critical of the sources we share and engage with on social media.
Read the list, which continues to be updated, and the Times report.
Like The College Fix on Facebook / Follow us on Twitter
IMAGE: Shutterstock