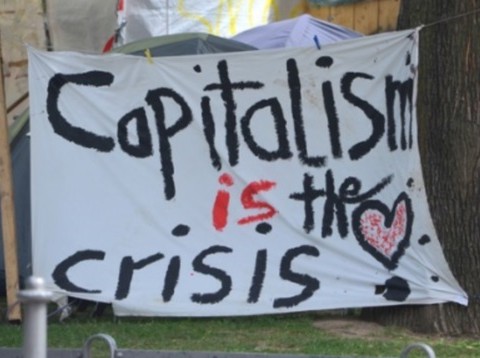 "The Communist Manifesto still ranks among the three most frequently assigned texts at American universities," Market Watch recently reported.
"Karl Marx is the most assigned economist in U.S. college classes," it noted, citing data from Open Syllabus Project, which tracks books and other works assigned to students in more than 1 million syllabi.
That students learn economics from a communist came as no surprise here at The College Fix. 
A 2013 survey by The College Fix of 31 public and private universities across the nation found that the subject of capitalism is often either maligned, ignored, or taught from a perspective other than objective economics.
Remember, after the Leftist and Marxist revolutions were defeated by unions, and Americans in general had firmly rejected communism, the Left needed a new power base. They found it – the university.
That's why it's not a big shocker that tax-the-rich Bernie Sanders has captured the youth vote and the hearts and minds of college-aged voters.
They're taught the rich have an obligation to support the poor. They're taught to embrace class warfare. They're taught corporations are evil. They're taught life's unfair, and there's no hope for them to succeed except through government handouts.
Then a politician comes around saying pretty much the same thing, and many young people gobble it up. Of course there's more to it – young people have not taken to Hillary Clinton, at all.
But who is to blame for this overall scenario in which young people actually believe socialism is the solution to all societal ills?
One big chunk of the blame lies with professors.
"The enthusiasm of our youth for the candidacy of Bernie Sanders is a symptom of our failure to educate them, not only in history, government and economics, but also basic morality," writes David Deming, a professor of arts and sciences at the University of Oklahoma, in NewsOK.
"… Socialism isn't so much a legitimate economic system as it is a moral failing," he added. "It will always exist because ignorant people will always want something for nothing. If we want to retain our freedom and prosperity, then we must educate our children that the purpose of government is to secure liberty, not provide free lunches."
The incomparable Peggy Noonan, writing in The Wall Street Journal, put it like this:
As for the young, let's say you're 20 or 30, meaning you'll be voting for a long time. What in your formative years would have taught you about the excellence of free markets, low taxes, "a friendly business climate"? A teacher in public high school? Maybe one — the faculty-lounge eccentric who boycotted the union meetings. And who in our colleges teaches the virtues of capitalism?
She asks that last question rhetorically but the answer is clear: Next to no one, at least in college classrooms, that is.
So the rise of Bernie and the embrace of socialism is upon America.
RELATED: Communist students declare capitalism 'violence,' then cuss out students defending free market
RELATED: University Forbids Poster That Takes A Stand Against Communism
RELATED: 'Activism' class at University of Michigan teaches capitalism should be 'overthrown'
Like The College Fix on Facebook / Follow us on Twitter