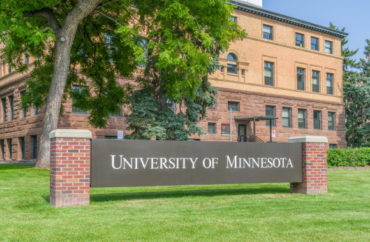 UPDATED
Two University of Minnesota professors were reported to the bias response team after they each mixed up the names of minority students in their classes, according to documents obtained by The College Fix.
In November last year, an Asian student filed a report noting they were one of only two Asian students in the class, but the professor routinely confused them for one another. It further angered the student that the professor never apologized for the mix-up.
On the same day, a member of the Minnesota Black Law Students Association filed a report complaining about a professor that had mixed up two black students.
The student filing the report had heard the story second-hand from another student that had complained of suffering "microaggressions" because a professor could not keep their name straight. Further, the student reported that the professor had made a joke about the confusion.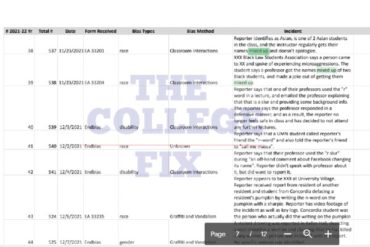 These were two reports out of 51 complaints filed between July 2021 and February 2022 with the Minnesota Bias Response and Referral Network, a system that allows members of the campus community to report one another for alleged bias-related infractions.
The reports were obtained as The College Fix continues to investigate the types of complaints that are lodged through bias response teams at college campuses across the nation. More than two dozen universities have been included in the investigation so far since it launched in 2019.
This is the second time The Fix has investigated bias reports at the University of Minnesota's Twin Cities campus.
In 2019, The Fix found complaints against a food service worker who greeted an Asian student by saying "hello" in Japanese, against the school for listing the race of criminal suspects on campus, and against a campus employee for a Halloween costume worn at a school event.
The University of Minnesota established its Bias Response and Referral Network in January 2016 at the urging of university President Eric Kaler. According to the university's website, the purpose of the BRRN is to "contribute to a campus climate that is welcoming, inclusive, and respectful for all."
"The BRRN provides support resources to impacted parties, promotes education and dialogue, and affirms the University's commitment to equity and diversity, free speech, and academic freedom," it states.
"Bias incidents undermine the University's efforts toward equity and inclusivity and cause distress and harm to those who experience them," a Minnesota spokesperson told The College Fix in an email Thursday.
"The University has an obligation to address bias, and the Bias Response and Referral Network provides a consultative and consistent way to do so. The BRRN is committed to upholding free speech and academic freedom on campus and does not have an investigative or disciplinary role in responding to any bias reports."
In another complaint, a student reported the school for adhering to the American Red Cross' rules for donating blood. In January of this year, the School of Veterinary Medicine held a blood drive, but one student was barred from donating because of the Red Cross' restrictions on receiving blood from people who are "of the student's sexual orientation."
While the Red Cross has acknowledged the "hurt" their policy against accepting blood from LGBTQ individuals has caused, the policy remains in place, as it is a federal requirement meant to stem the spread of HIV.
"The Red Cross recognizes the hurt this policy has caused to many in the LGBTQ+ community and believes blood donation eligibility should not be determined by methods that are based upon sexual orientation," the group has said in a statement on their website. "We are committed to working with partners toward achieving this goal."
In October 2021, a student reported a professor for using a video in class that "contains outdated and negative portrayals of Chinese-Americans." The student gave the professor "feedback," but the instructor continued to use the video.
Other complaints filed include:
A graduate student reported several examples of speakers who "fetishize, other, or Orientalize Asian-American identity." The student provided other examples of biased behaviors including classroom projects designed to "support and take action for BIPOC communities," which the student said "reflected white saviorism."

One individual claimed the university is "discriminating against men because it does not have a Men's Center, but does have a Women's Center."

An individual claimed the university is showing bias in favor of China "by removing a portion of a post that stated that COVID originated in China."

A faculty member was confronted by individuals who appeared to be students and "asked if she was Chinese."

An anonymous student reported that a professor used language in a handout that implied that people who "make messes in their house" and cannot bathe or tie their shoes are "subhuman."

A student reported a private email exchange with a fellow student in which the other student claimed Catholicism was "the one true religion."

An individual received email from a student "asking to have a pro-choice speaker as part of a debate."

An individual heard from another person that a coworker had said "people shouldn't be afraid of COVID and that people staying home are lazy."
MORE: Campus food service worker hit with bias complaint after saying 'hello' to student in Japanese
IMAGE: Ken Wolter / Shutterstock
This article has been updated to include a quote from the University of Minnesota spokesperson.
Like The College Fix on Facebook / Follow us on Twitter