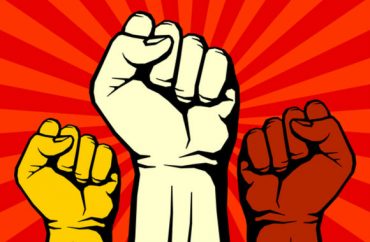 Approximately 100 protesters rallied at the Ithaca, New York courthouse on Monday to demand charges be dropped against a pair of black residents who were arrested during an April scuffle.
Those in attendance, including at least two professors, also that demanded reparations be paid to the accused.
According to The Cornell Daily Sun, Rose de Groat and Cadji Ferguson were arrested by Ithaca Police Department officers on April 6 after Ferguson struck a "middle-aged white man" who claimed he was in town "for his son's Cornell wrestling tryouts." Police say de Groat "hit two officers in the head" while working to cuff Ferguson; body cam footage appears to confirm this statement; one cam's footage also shows de Groat attempting to kick officers as they put her into a squad car.
De Groat and Ferguson said they never expected their cases to go to trial. Ferguson added he was surprised that the unidentified white man — whom Ferguson claimed in one of the videos was a "male predator" and had tried to grab de Groat "by the pussy" — wasn't charged himself or even subpoenaed.
Cornell history professor Russell Rickford, who stood outside the courthouse holding a sign which read "RACIST COPS – HENCHMEN OF THE CAPITALIST ORDER," spoke to the assembled crowd urging them "to continue to escalate the issue and send a message to the police, members of council and the mayor — 'the entire power structure.'"
In an interview with The Sun after the crowd had dissipated, Rickford attributed the turnout to the community being able to recognize a clear case of police brutality, "with different treatment for the white guy from out of town on one hand, the instigator of the entire incident, and the two black people … victimized by this militarized police response." …

Rickford also commented on how the city was not removed from national problems.

"Ithaca cultivates this image of a precious little enclave where nothing bad happens and the truth is … you can find all the pathologies that are present in larger society including racism," he said. …

Barbara Regenspan, an emeritus professor at Colgate University, told The Sun before the hearing that the incident derived from "the militarization of the police force."

"It's a no-brainer," Regenspan said. "The sickening thing about it is that everyone knows. It's following the same patterns all over the country … It's not that different from the Eric Garner murder."
Interim Ithaca Police Chief Dennis Nayor said his officers "acted in accordance to department policies" and would not be punished. Mayor Svante Myrick (a 2009 graduate of Cornell) disagreed, however, saying "I think we could all see with our own eyes that they overreacted." Several bystanders in the body cam footage can be heard complaining about how officers had subdued de Groat.
Police body camera and surveillance footage are available to view online. Each video appears to pick up after Ferguson's allegations about the white man.
In the fourth body cam vid, an officer says he "could see almost everything that happened," and tells the white man there "appeared to be some sort of disagreement between you and [Ferguson]." The man claims Ferguson told him to "shut up" and then took a swing at him. In another video (noted in The Sun), the white man says "these black guys fucked with me. And then I slapped them around a little bit … they, they cold cocked me."
For his part, Professor Rickford's sign and statement are par for the course for him. He believes the US government engages in "genocide" against black Americans and has said the Martin Luther King, Jr. federal holiday is a "tool of the far-right imperialists to appease people." He also believes that reporting on academics' outrageous statements is a "technique of oppression."
Regenspan, a professor of educational studies, wrote a letter to The Sun early last year to complain that Vice President Dick Cheney was "not qualified" to speak at Cornell: He had "masterminded a disastrous war based on the known lie of Iraq's possession of 'weapons of mass destruction,'" she said.
MORE: Dozens of Cornell profs protest suspension of 'white genocide' professor
MORE: Cornell protesters blast private lecture by Tea Party leader
IMAGE: MicroOne / Shutterstock.com
Like The College Fix on Facebook / Follow us on Twitter