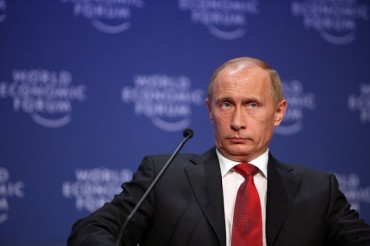 At Harvard University this past Thursday, a pair of Clark University professors offered a new take on how Russia's Vladimir Putin affected the 2016 presidential election.
For Valerie Sperling and Robert Boatright, "many 2016 political campaigns relied on traditional gender stereotypes to frame their candidacies and undermine those of others," according to The Crimson.
Four years ago, numerous candidates made their campaigns into "contest[s] of masculinity," and the professors compared such to the methods Russia's Putin has utilized.
The profs' talk, "What Studying Putin's Russia Can Teach Us about the United States: Masculinity, Misogyny, and U.S. Elections in the Trump Era," also argued the president's 2016 campaign negatively affected women candidates. New Hampshire US Senate incumbent Kelly Ayotte, for example, lost to Maggie Hassan because "she was expected to hold a standard higher than men."
In this year's campaign, Maine's Susan Collins is facing similar difficulties.
Sperling said in an interview after the event that she hoped audience members took away a broader understanding of how gender stereotypes affect political campaigns and elections.

"I would like audience members to walk away with a gender lens that they will then apply to everything political that they see," Sperling said. "In other words, to be aware of when they're viewing a political candidate or a political contest through the lens of masculinity or through the lens of homophobia when ads and pronouncements are playing on gender norms and gender expectations."

In the interview, Sperling also said masculinity is a pervasive bipartisan political tool. She pointed to Tuesday's presidential debate and said she thought both Trump and Democratic nominee and former Vice President Joseph R. Biden Jr. performed masculinity.
According to her faculty page, Sperling's research interests include "globalization and accountability, social movements, gender politics, patriotism and militarism." Her most recent publication is titled "Sex, Politics, and Putin: Political Legitimacy in Russia."
Boatwright's research deals with "comparative campaign finance and the role of ideological appeals in campaigns," and he is currently working on a manuscript about "how the concept of political corruption is understood in America today."
MORE: Study: Men refusing to wear masks = 'toxic masculinity,' racism
MORE: Students warned: Bulging biceps, big guns advance unhealthy masculinity
IMAGE: World Economic Forum / Flickr.com
Like The College Fix on Facebook / Follow us on Twitter