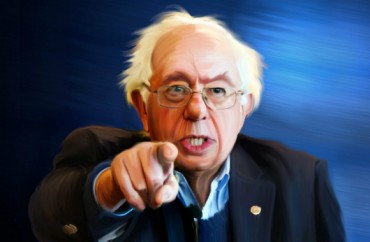 Racially inflammatory fliers posted around Philadelphia's Temple University appear to be reviving hard feelings from last year's Democratic presidential primary.
Campus police are investigating the placards which state "Hey you stupid N— s, Bernie would have won if it wasn't for you. Seriously, f— you all. This is all your fault."
According to Philly.com, the message refers to "the assertion that [Bernie] Sanders would have defeated Donald Trump in the general election." Blacks, however, overwhelmingly backed Hillary Clinton.
As Temple students and as a university we MUST do better. If you have any info please contact Temple's campus safety. pic.twitter.com/6IjbiL6T6D

— Progressive NAACP (@TEMPLE_NAACP) December 14, 2017
The Temple College Democrats condemned the signs:
It is with heavy hearts that the Temple College Democrats must address another exhibition of hate speech on our campus. We recognize this rhetoric for what it is: racist and intolerant. This incident rests upon a much more systemic issue, one that only becomes increasingly normalized the longer we fail to take action.
🛑Update on Racist Fliers posted on Temple University's Campus🛑
Here are photos of the suspect responsible for posting the racist fliers around campus . We ask those that have any information regarding this person to contact "Campus Safety Services" at 215-204-1234 pic.twitter.com/BGkDiZjQ3H

— Progressive NAACP (@TEMPLE_NAACP) December 15, 2017
The Temple News student paper completely ignored the Sanders-Clinton angle, opting to focus solely on the fliers' racism:
"These fliers were disgusting, intimidating and hateful, and they have no place on our campus," [University President Richard Englert's] statement read. "They do not represent the Temple community that I have known and loved during the last 40 years. Personally, I found the fliers despicable, and it breaks my heart that this occurred at Temple." …

"I am not the least bit surprised by the sign outside of 1940," [Student Body President Tyrell Mann-Barnes tweeted]. "However, I will say that it is imperative we fight hate, racism, bigotry, and intolerance every time we see it." …

"This is disgusting, hateful and has no place on our campus," [Temple spokesman Brandon Lausch emailed]. "Students who find additional posters are asked to contact Campus Safety Services."
Read the full Philly.com and Temple News stories.
MORE: Flier tells students of color to charge white peers for 'emotional labor'
MORE: 'White genocide' prof whines about white nationalist flyers on campus
IMAGE: Donkey Hotey/Flickr
Like The College Fix on Facebook / Follow us on Twitter