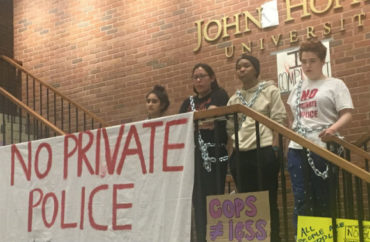 'The fact that the criminal actors are students should not alter the basic principles'
Johns Hopkins University students protested its plan to form its own police force by blockading themselves inside an administration building as part of their 37-day sit-in.
Activists chained all entrances shut and prevented anyone from entering. After ultimately breaching the building, authorities arrested five occupiers inside.
The private Baltimore university stated that the suped-up sit-in evoked "major safety risks" and "severely disrupted university services," yet prosecutors have already ruled out charging those who were arrested or involved in the occupation.
When the state refuses to get involved, what's the best way for a college community to discourage protesters from engaging in lengthy shutdowns? According to one law professor, community members should file civil lawsuits against them.
"The fact that the criminal actors are students, and that the criminal acts occurred on a college campus, should not alter the basic principles creating legal liability for engaging in a criminal act," George Washington University's John Banzhaf said in a phone interview with The College Fix.
The public interest lawyer, best known for his legal crusades against smoking and in favor of more public toilets for women, is floating the idea of filing a civil lawsuit on behalf of individuals negatively affected by the suped-up sit in.
Banzhaf has recent case law to cite. Last month a federal appeals court ruled that a Black Lives Matter organizer could be sued by a police officer who suffered injury during the illegal highway blockages he led.
The office of State's Attorney Marilyn Mosby gave The Fix an explanation for its decision not to prosecute that echoes Cook County's decision not to prosecute actor Jussie Smollett for a hate-crime hoax in Chicago.
Spokesperson Melba Saunders said in a phone call that the office's decision is "consistent with those we've made in the past," but she declined to provide any additional insight on what motivated the decision.
MORE: JHU protesters chain themselves to administrative building
We held the building overnight.

Go check out our facebook: https://t.co/dsdJG9E9OU pic.twitter.com/eMTod792L0

— JHU Sit-In Day 35 (@TheGarlandSitIn) May 2, 2019
Aggravated assaults up 1,000 percent in neighborhoods around campus
JHU activists made the case that any police on campus, which is overwhelmingly white, will endanger the nonwhite students and surrounding neighborhoods.
But the university made the case to state lawmakers that its East Baltimore neighborhood is increasingly dangerous.
According to an Interim Study Report on the crime rates of neighborhoods in close proximity to JHU's Baltimore campus, presented to lawmakers at the end of 2018, the city's violent crime rate jumped about 30 percent between 2014 and 2017.
During that same period, aggravated assaults in the city hiked 350 percent, and even worse in the areas adjacent to campus: more than 1,000 percent.
s/o to @SJPtufts for their support!! sending y'all mad love, appreciation, and our solidarity ✊🏽✊🏽 pic.twitter.com/IOQRQa5V6h

— JHU Sit-In Day 35 (@TheGarlandSitIn) May 2, 2019
Maryland state senators responded favorably to the administration's plea, voting 42-2 to grant JHU millions in annual funding to sustain its first on-campus police department. The two nays came from Democrats representing Baltimore neighborhoods.
Signed into law by Republican Gov. Larry Hogan, the bill mandates that all police personnel on campus wear body cameras. It also establishes an "accountability board" ahead of the department's debut. It takes effect July 1.
Demonstrators responded first with the sit-in and then by forcing "a complete shutdown of Garland Hall" from May 2 through May 8, Inside Higher Ed reported before authorities entered the building. They "chained themselves to walls, railings and staircases, refusing to leave until administrators negotiated with them."
In a symbolic move, the demonstrators chained every Garland entrance shut except for one connected to President Ronald Daniels' office. He initially refused to meet with them as long as they occupied the building, but one student had a different explanation for Inside Higher Ed: The president is "probably afraid of black people."
MORE: VCU students hold sit-in to protest 'non-inclusive' environment
#NewProfilePic #ResignRon pic.twitter.com/WyKRc0s0t6

— #ResignRon (@itsshawnnow) May 9, 2019
The occupiers were also protesting the university's ties to Immigration and Customs Enforcement, which has an educational services contract with JHU. Demonstrators demanded the administration burn its bridges with the federal agency.
They were sustained by a GoFundMe account, which now exceeds $12,000, that subsidized their snacks and meals. They made their presence known by the trail of litter they left behind.
Garland Hall is home to offices that provide a range of resources to students, from financial services to academic advising, all of which were unavailable during the shutdown.
Likely victims: disabled students, workers who couldn't pick up paychecks
In an email blast Thursday after Mosby's office declined to prosecute, GWU's Banzhaf laid out his legal theory for suing JHU demonstrators.
He cited a late April ruling by the 5th U.S. Circuit Court of Appeals that reinstated a negligence lawsuit by an unidentified police officer against Black Lives Matter organizer Deray Mckesson. The activist was leading a protest that illegally blocked a highway in Baton Rouge, Louisiana.
A protester hurled a "rock-like object" at officers making arrests, severely injuring the plaintiff, who suffered "loss of teeth, a jaw injury, a brain injury, a head injury, lost wages" and more.
The officer has "plausibly alleged that Mckesson breached his duty of reasonable care in the course of organizing and leading the Baton Rouge demonstration" by "ignoring the foreseeable risk of violence that his actions created," the court wrote.
The decision is "likely to prompt civil suits against others who help organize illegal demonstrations," Banzhaf wrote. He said such leaders are "often easily identified through social media."
MORE: NYU threatens to kick sit-in protesters out of housing
Full occupation of Garland Hall has begun: #JHUsitin #JHUShutdown pic.twitter.com/YcHv2HmeFa

— 이성미 (@SungmeyLee) May 1, 2019
Those who may have been harmed by the JHU blockade: "disabled students who were not able to take their final exams as scheduled because they were to be administered in the occupied building" and "student workers – many on very tight budgets with fixed expenses – who could not pick up their salary checks on time."
An even more compelling class of plaintiff would be those who were trapped in the building by demonstrators, who violated both fire codes and "the direct orders of the fire marshal," Banzhaf wrote.
Banzhaf offered The Fix a hypothetical over email: "if protestors for some reason unlawfully and criminally occupy a private home or office, they would be liable for the reasonably foreseeable damage."
In a followup phone call, Banzhaf compared Mckesson's highway blockage to the JHU shutdown: Both created apparent inconveniences that "terrorized people from going about their day," most of whom were "third-parties" to the central debate. Employees, student staff and handicapped individuals all have "untapped legal authority" to sue demonstrators.
sorry admin, we're closed for business until you negotiate 🤷🏽‍♀️ pic.twitter.com/1L1Lqvaait

— JHU Sit-In Day 35 (@TheGarlandSitIn) May 1, 2019
The advantage that plaintiffs have in filing civil suits is "they are in control of the entire process," and can use their own discretion to guide the course of their lawsuit, the professor told The Fix. They could target either local leaders that organized the event or any individual that was involved.
Since Garland Hall was entirely inaccessible and subject to physical damage by demonstrators, the "most logical plaintiff" would actually be JHU itself, Banzhaf told The Fix in an email. The professor allowed that this was unlikely in the followup phone call, since it would create additional "poor publicity" for the embattled administration.
Given the duration of the occupation and extensive accommodations given to demonstrators, the administration appeared rather "deferential" to them, Banzhaf said. There seems to be no real effort by the university to "condemn unlawful display [demonstration]."
This is not surprising because of the "concentrated liberalism" among college administrators, which is even higher than among faculty, he said. The extreme leftward tilt of administrators was catalogued last fall by Sarah Lawrence College Prof. Samuel Abrams, based on his survey of roughly 900 administrators.
MORE: UVM sit-in ends quickly after cops threaten students with arrest
an invitation for watchers to join in the action in garland! come occupy the space with us! #jhusitin #freedomcampus pic.twitter.com/Jc1OVqipgl

— JHU Sit-In Day 35 (@TheGarlandSitIn) May 1, 2019
University's commitment to 'free expression' led it to tolerate illegal occupation
JHU was not only fighting the righteous indignation of student activists, but some of its own faculty.
"Sociological research into the impact of policing on black and brown communities has shown us that these forces do not make everyone in the community feel welcome and safe," according to a professor identified only as "Daniel" by The Chronicle of Higher Education. He didn't cite any statistics. Police only "make white people feel safe," the academic added.
But after 37 days of attempting to settle the situation by diplomatic means, administrators ultimately called on local authorities to intervene. Baltimore police gave students "a number of warnings" and extended the "full opportunity to withdraw without a charge.
Few bargained, and police "finally sawed though the gates holding the front entrance shut," CBS Baltimore reported. Police arrested five individuals involved in the occupation inside. Two others were arrested for lying beneath parked police cars outside.
Two more of the Hopkins protesters were arrested after lying down in front of one of the police vans. pic.twitter.com/swfHxr9Fkb

— Colin Campbell (@cmcampbell6) May 8, 2019
Asked why administrators waited so long to get authorities involved, a university spokesperson referred The Fix to a statement from President Daniels and Provost Kumar.
"Over these past five weeks, the university made every effort to accommodate the underlying protest because we hold so firmly to the belief in free expression," they wrote. But the evolution of the occupation changed their minds.
"[S]tudents and outside activists chained the doors closed, blocked exits and entrances to the building, harassed and intimidated our staff, and physically prevented fellow students from receiving essential services," they wrote: "This was no longer a peaceful show of civil disobedience, but instead a forcible occupation of a university building in contravention of the law and university code of conduct."
MORE: JHU student leaders oppose Chick-fil-A as a 'microaggression'
IMAGE: JHU Sit-In Day 35/Twitter
Like The College Fix on Facebook / Follow us on Twitter