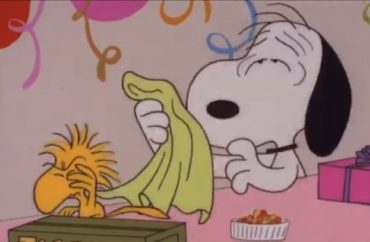 Did graduation virtually, now says it can't technically handle pre-recorded video performance
For people who think the original "Peanuts" cartoon isn't existential enough, there's a version where Charlie Brown and the gang are teenagers with 21st century teenage problems.
"Dog Sees God: Confessions of a Teenage Blockhead" was supposed to be this fall's stage production at Muscatine Community College in Iowa. Though the production was scheduled to be performed for a virtual audience in response to COVID-19 concerns, the taxpayer-funded school has now blocked it, also citing the novel coronavirus.
The Foundation for Individual Rights in Education believes this public-health pretext was issued so the college could easily dispose of a production that features "drug use, sexuality and LGBTQ+ issues, and suicide," and which already bothered administrators when they saw an early version.
In a letter to President Naomi DeWinter Friday, the civil liberties group said the cancellation was a "naked pretext to censorship," violating MCC's First Amendment obligations as well as those of the Eastern Iowa Community College District.
It's just the latest First Amendment spat at MCC, whose student journalists unsuccessfully sued it five years ago for retaliation against their coverage. One of the triggers for the alleged retaliation: The Calumet published a department chair's headshot without his permission.
Bothered by 'cursing and the beloved character Snoopy dying'
Directing the play from home was part of the teaching accommodation secured by English and Theater Prof. Alyssa Oltmanns when her doctor told her to continue working remotely due to her heightened COVID-19 risk, according to the letter.
Even though she had a viable Americans with Disabilities Act claim, the college took more than two months to let her teach remotely.
The college said the fall play was "preferred on campus" but would be made virtual if "community health concerns" made an on-site performance "not possible." While Oltmanns got to choose "the type of play," Dean of Instruction Jeremy Pickard (left) had "final approval."
After the director chose "Dog Sees God," Pickard told her Sept. 4 she couldn't stage that play, citing her accommodation letter. The terms of the letter itself, though, don't allow Pickard to veto a play because of its content.
Apparently aware that his answer could get the university sued for violating the First Amendment, Pickard refused to give Oltmanns a written reason for blocking the play. He had previously promised to "never censor" the plays chosen by Oltmanns, who had previously directed four plays at the college "without administrative intervention," according to FIRE.
MORE: Muscatine gets away with First Amendment retaliation
But Pickard was on the record as not liking "Dog Sees God," having seen a few scenes at a faculty luncheon more than a year earlier:
After this performance, Pickard had expressed concerns that the script included cursing and the beloved character Snoopy dying. At the time, Oltmanns had been considering using the script for an upcoming play. However, after hearing Pickard's concerns, she decided to postpone those plans. As a brand new faculty member in the 2018–19 school year, Oltmanns worried that selecting a play about which administrators had concerns would put her job at risk.
Hoping to "resolve the situation diplomatically," given Pickard's calculated silence about his objection to the fall play, Oltmanns convinced the playwright to remove "some of the more controversial content" in the script for MCC's production. She sent it to Pickard for his feedback.
He never gave it, and five days later President DeWinter told Oltmanns the fall production would be canceled  because of "public health concerns related to the COVID-19 pandemic and MCC's inability to support a virtual production," in FIRE's paraphrase.
The civil liberties group considers this a ruse, as the college hosted spring graduation virtually and Oltmanns was going to stage the play "as a recorded video rather than a live event," the latter of which would be more challenging logistically.
MORE: Theater department cancels play to stop whites from being cast as Asians
Abusing the ADA as an unconstitutional 'license for censorship'
It's indisputable under First Amendment case law that the college can't censor faculty expression, including "through theatre productions," simply because they don't approve of the content, FIRE told DeWinters. Not only directing but "acting in, producing, or otherwise participating in a performance" is constitutionally protected, the same as other nonverbal expression in government settings such as wearing antiwar armbands and burning flags.
Oltmanns has the right as theatre director to "select and direct the script of her choice" even if the material "may shock or offend others—including administrators," the letter continued: The First Amendment exists "precisely to protect speech that some or even most members of a community may find controversial or offensive."
Pickard's calculated silence about what bothered him with "Dog Sees God" gives away the game, FIRE said:
While it is unclear whether it is the LGBTQ+ themes, the exploration of sexuality, or the depiction of teenage acne Pickard finds objectionable, Pickard's reluctance to detail his concerns further casts suspicion on the legal propriety of his decision as an administrator of an institution bound by the First Amendment.
The COVID-19 excuse to shut down a virtual performance definitely "trample[s]" on Oltmanns' rights and does not fit with the college's explanation of its technical limitations. Posting a "planned pre-recorded production" is no more technically challenging than MCC pulling off a virtual graduation, FIRE said.
As for Pickard's citation of Oltmanns' accommodation letter, he is clearly abusing the ADA as an unconstitutional "license for censorship." The letter only gave him authority "to help determine what modality would be used to put on the fall play," not to "make determinations about content."
'This isn't the "Peanuts" they are used to'
Oltmanns told The Gazette she was surprised about the kibosh on "Dog Sees God" because she had previously staged a musical adaptation of "Little Miss Sunshine" – including "a song about sex and a scene of a character snorting cocaine" – and Pickard had praised it.
The Gazette report fleshes out Pickard's communications with Oltmanns and the exact format she proposed:
When Oltmanns asked why Pickard wouldn't approve the play, he wrote Sept. 6: "Dog Sees God has not been approved due to the same concerns we discussed previously." …

"[At the faculty luncheon in 2019, Pickard] said he worried that 'if you do this play, I'll get phone calls to my office because this isn't the "Peanuts" they are used to'," she said.
Oltmanns had proposed the actors perform their scenes through Zoom and the college sell digital "tickets" to access the recording. President DeWinter still said the college doesn't have "the available technical staff to ensure it runs smoothly."
The community college district regurgitated the dubious rationale given by MCC, telling the Gazette that the college considered facts including "cost, technical requirements and content."
In a garbled sentence befitting a PR statement, the spokesperson continued: "Upon considerable consideration the production in question was determined to be one with which the college chose not to proceed."
The show will go on as a community theater performance in November that also serves as a benefit for an LGBTQ center.
Read the letter and Gazette report.
MORE: College yanks student-directed play at last minute for depicting KKK
IMAGE: "Peanuts" screenshot, Jeremy Pickard/LinkedIn
Like The College Fix on Facebook / Follow us on Twitter