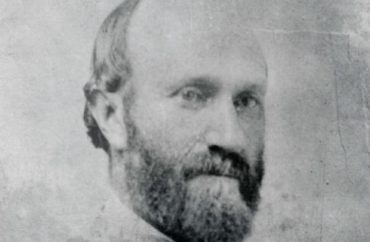 His family defends his legacy
A public school system in Charlotte, North Carolina, recently announced plans to rename its academic center as some have accused the current name of promoting white supremacists.
But in its zeal to remove racists from its ranks, it has unfairly maligned a reluctant Confederate general who later spent his life advocating for inclusion of African-Americans.
"Politically, Rufus Barringer was a Whig who favored African-American suffrage," historian Marvin Krieger wrote in a book on North Carolina history called the "Dictionary of North Carolina Biography."
Charlotte-Mecklenburg's school board voted to rename the Barringer Academic Center after advocates claimed it honored a white supremacist named Osmond Barringer. But a journalist at WSOC, a local TV station, did some digging and found the district had named the school for Rufus Barringer, a former Confederate general and his son, Paul Barringer.
The school is not named after Osmond Barringer, who donated the land for the school. Osmond is a descendant of Rufus Barringer.
School board member Thelma Byers-Bailey discussed the Barringer Academic Center's renaming and praised the members for their wokeness on racial issues.
At our last meeting, this board launched some significant work. We began making sure that the names of our schools reflect our values and our ideals. This endeavor is important for several reasons: names and symbols matter. They reflect who we are and what we believe. Our country's painful, shameful history of racial injustice is the backdrop to this endeavor. It is a reminder that when we take a wrong turn, it's important to correct it. To reset our negotiations, so we are moving in the right direction. We want our schools in their name, as well as their instructional practices, to offer inspiration to every student.
Furthermore, after the end of the Civil War, Rufus Barringer "did everything he could to convince North Carolinians to accept Reconstruction and heal the wounds of war," Sheridan Barringer, a relative of the military general, wrote in a summary of his book "Fighting for General Lee."
Sheridan Barringer's great-grandfather is a first cousin of General Barringer.
MORE: UNC chancellor vows that Confederate statue will not return to school
The Charlotte Mecklenburg Library also said on its website that Barringer met President Abraham Lincoln while Barringer was held as a prisoner of war.
Sheridan Barringer said in the book summary:
It is easy today to paint all who wore Confederate gray with a broad brush because they fought on the side to preserve slavery. Here, however, was a man who wielded the sword and then promptly sheathed it to follow a bolder vision. Barringer proved to be a bold champion of the poor, the black, and the masses–a Southern gentleman and man decades ahead of his time that made a difference in the lives of North Carolinians.
Sheridan Barringer defended General Barringer's reputation further via Twitter messaging with The College Fix.
"General Rufus Barringer was a progressive man, who became a Republican after the war, promoting black suffrage, but not social equality. Osmond, Rufus's son, lived in Rocky Mount, and I do not know his feelings on the subject."
"Paul wrote a well-known paper on the subject, suggesting that African Americans could only achieve a limited success," he said.
The Fix asked Sheridan if he thought the academic center should be renamed and if he agreed that Osmond and Paul Barringer were "white supremacists," as the school said.
He said, "It's tough to hold people in history to today's standards, but it should probably be renamed [if] named after Osmond or Paul."
"I do not think anything named after General Rufus Barringer should be renamed, as he was such a progressive man and way ahead of his time," Sheridan Barringer said.
MORE: Conservative students rally to defend Lincoln statue
IMAGE: Sheridan Barringer/"Fighting For General Lee"
Like The College Fix on Facebook / Follow us on Twitter