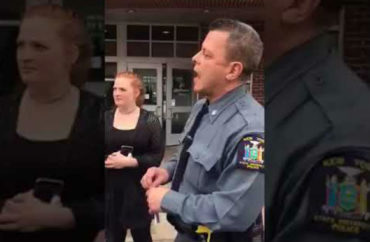 SUNY-Binghamton is wrong on both state law and legal precedent
Which ranks higher on the intersectionality pyramid, climate change or racism?
The State University of New York-Binghamton made a bet that it could successfully squelch student protests against its handling of alleged campus racism by declaring that they hurt the environment.
It wasn't necessarily a stretch: Virginia's University of Mary Washington also justified shutting down the print version of its student newspaper by claiming it harmed the earth.
But after some unwanted publicity from the Foundation for Individual Rights in Education, Binghamton is backing down – sort of.
It started when campus police warned a student who was posting flyers critical of the administration that he had violated state law (nope – that only applies to "advertisements"). The campus police investigator doubled down, telling the student paper that it also violated "the student handbook."
As FIRE's Sarah McLaughlin writes, Dominic Davy and his fellow activists were later confronted by another officer, who claimed that passers-by were complaining that the students had switched to passing out flyers:
The officer then told the students that they would be asked to stop distributing flyers if their recipients littered them. One student asked the officer why they would be held accountable for other people littering. The officer replied, "It's because its being generated by you guys. … They would not be doing that if you guys didn't generate the papers."
This is balderdash: The First Amendment isn't suspended when other people violate littering laws.
Not only did the students not violate either state law or university policy (which claims to simply enforce state law), FIRE told SUNY-Binghamton in an April letter, but both Supreme Court precedent and appellate rulings have made clear that governments can't squelch expression with the aim of preventing litter.
The university is now claiming that the students were never investigated for violations alleged by its own police investigator.
It told women's fashion website Refinery29 last month that there was "no investigation" and the university "does not intend to pursue charges," but still faulted the students for their "problematic" action of passing out flyers to people who were free to reject them.
FIRE's McLaughlin invites the administration to "discuss appropriate ways for administrators and campus police to respond to student expression," rather than leave the situation "partially rectified" by blaming students for other people's litter.
"Until then," she wrote, "students at Binghamton University should be on the lookout to ensure that their First Amendment rights are not curtailed on the basis of other students' behavior — and they should contact FIRE if they are."
MORE: Here's how to use diversity and inclusion to crack down on student activism
IMAGE: Foundation for Individual Rights in Education/YouTube
Like The College Fix on Facebook / Follow us on Twitter