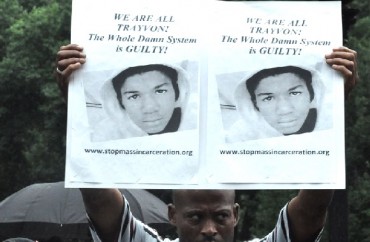 The University of Georgia is set to host an "I Am Trayvon Martin: Hoodies Up" lecture by Jasmine Rand, an attorney who represented the Martin family. Rand will be paid a $3,500 honorarium for her speech, a spokeswoman for the public university told The College Fix in an email.
The "Hoodies Up" talk, scheduled for Sept. 10, will focus in part on Rand's "use of the media to further a social justice cause and her experience as a professor that encouraged her students to work side by side on her case and launch what became an international movement," according to a description of the talk linked on her law firm's website.
"Rand's students under her tutelage coined the phrase, 'I Am Trayvon Martin,'" the site continued. "From her students lips
to President Obama's ears, upon the announcement of the not guilty verdict, the President of the United States stood by the family and said, 'I too Am Trayvon.'"
The full title of the talk is "I Am Trayvon Martin: Hoodies Up—How One Case Changed a Nation and Ignited the World."
According to her profile on the University of Miami School of Law website, as an adjunct professor there Rand has taught on "legal advocacy, media and the pursuit of social justice."
"If you break down every aspect of the Trayvon Martin case, things that are tangible and things that are intangible, you're dealing with civil and human rights, and so much of that is not quantifiable in a traditional sense," Rand said, according to UGA Today. "So there are certain aspects that have a very real influence on leading a movement and creating social change and changing the law that have nothing to do with black letter law."
The talk is scheduled for Sept. 10 and is sponsored by the university's Institute for African American Studies. Rand is a 2004 UGA grad with degrees in African American studies and political science, according to UGA Today.
This is not Rand's first campus talk. She gave a speech at Mercer University last spring.
Her bio states she "is currently involved in police brutality cases throughout the nation from the LAPD to the NYPD" and frequently appears as a legal analyst on CNN, MSNBC and Fox News.
Like The College Fix on Facebook / Follow us on Twitter
IMAGES: Main-Mario Piperni/Inside-Michael Fleshman (Flickr)