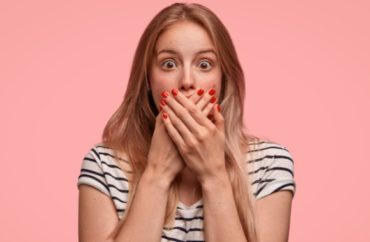 Another racially offensive incident is causing anger and angst at an American campus, this time at the University of Wisconsin-Eau Claire.
A campus group called "Black Male Empowerment" got hold of a Snapchat conversation in which several university football players used "racially-charged imagery and references." These included a photo of a burning cross and KKK members garbed in their notorious white robes.
According to the student paper The Spectator, the message chain appeared to parody Black Male Empowerment, referencing a fictitious WME — White Male Empowerment — group.
"I'll be there like 5 mins late," one of the students wrote. "Think the cross will still be burning? Don't want to miss that again." Another asked why they were "wasting wood" burning a cross; instead, he asked, why not burn a person "who doesn't share their views or who 'looks a little different.'"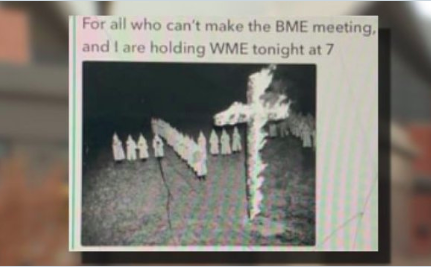 Revelation of the chat led to the suspension of several players from the football team. Kendall McGinnis, a black now-former player and member of BME called the suspension "a slap on the wrist" and alleged incidents like this are "something that has been happening on this campus" … and nothing ever gets done about it.
In addition, the UW-Eau Claire Office of Multicultural Affairs organized a "Deconstructing Racism" event in which students of color were invited to, well, "deconstruct racism" and "to develop a list of demands and concerns they would like to convey to higher administration."
From these the OMA created a list of student "themes" which includes possible expulsion of the culpable students, mandatory equity and diversity training, and "more transparency" in communications between school officials and students.
OMA member Erika Nguyen echoed McGinnis's sentiments (and those of practically every activist at every campus when an incident like this comes to light) by saying "racism on campus is larger than just this incident."
Compounding matters, McGinnis and two other black football players posted on social media a high school-era photo of a white teammate dressed in blackface for Halloween. McGinnis claimed a player showed him the photo, and in turn he shared it with members of Black Male Empowerment (and social media).
A commenter to the article claims the teammate's Halloween costume is supposed to be that Michael Jordan. The number 23 and "Wizards" basketball jersey appears to support that assertion.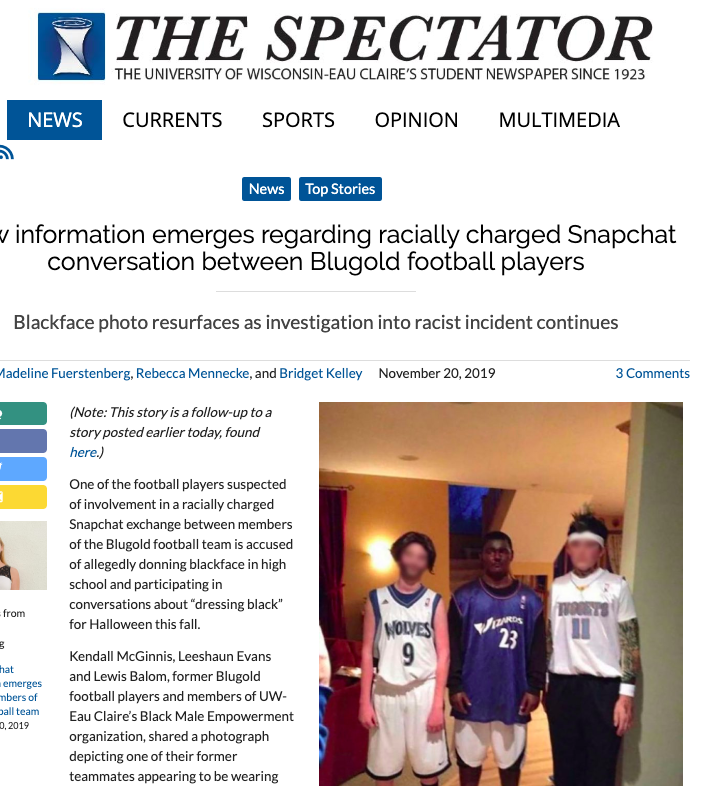 McGinnis went on to allege he had observed racism from his white teammates following Donald Trump's election. This included "mocking behavior" towards a player "whose grandmother is an immigrant," and criticism of McGinnis and others for their support of Colin Kaepernick.
In response to a query from The College Fix, Spectator editor-in-chief Madeline Fuerstenberg said the original Snapchat conversation had been shared by a chat participant with a member of Black Male Empowerment. Fuerstenberg also confirmed what a commenter had alleged in one of the articles — that some of those involved in the (original) chat are Hispanic and African-American.
MORE: Students demand disabled, queer faculty of color after offensive Snapchat
MORE: Students demand resignations of college officials following racist Snapchat
IMAGES: WAYHOME studio / Shutterstock.com, Twitter, Spectator screenshot
Like The College Fix on Facebook / Follow us on Twitter