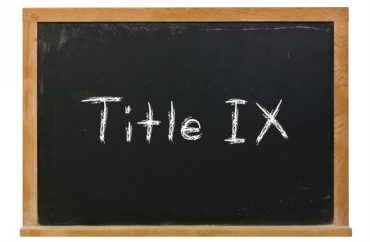 No more 'commingling of administrative or adjudicative roles'
The U.S. Department of Education can only do so much to protect the rights of accused students and other campus groups that are often the targets of progressive ire and administrative suppression.
That's why it's refreshing to see protective provisions included in a bill to reauthorize the Higher Education Act.
Recently offered by House Education Committee Republicans, the PROSPER Act includes several elements that were "influenced by or were taken directly from" a model bill offered by the due process group Stop Abusive and Violent Environments, SAVE said in an email.
It pointed to an explicit pledge that institutions can't be sanctioned or lose federal funding for delaying or suspending their own sexual-assault investigations "in response to a request from a law enforcement agency or a prosecutor." Colleges often launch their own investigations – driven as much by PR as the search for the truth – while police investigations are ongoing.
The bill also requires the investigation and disciplinary proceeding to be "prompt, impartial, and fair" to both parties; give "all parties to the proceeding … adequate written notice of the allegation" at least two weeks before a hearing; and give everyone access to "all material evidence" at least a week before a hearing.
Notice must include "a description of all rights and responsibilities under the proceeding, a statement of all relevant details of the allegation, and a specific statement of the sanctions which may be imposed." Accused students must have "a meaningful opportunity to admit or contest the allegation."
One of the most important requirements is that colleges ban "commingling of administrative or adjudicative roles" in proceedings. This would seem to ban so-called single-investigator models in which the same person who investigates also makes a finding and recommendation, sometimes without a hearing where accuser and accused can make their own cases.
Investigations and proceedings must also be conducted by officials who receive "annual education" on both sexual misconduct subjects and ensuring "fairness for both the accuser and the accused."
MORE: Mass. lawmakers order colleges to use 'junk science' campus rape training
BIG NEWS: @EdWorkforce Chairwoman @VirginiaFoxx and I just introduced the #PROSPER Act. Read more: https://t.co/hNfHCE8lCR pic.twitter.com/If9tiGrGhV

— Rep. Brett Guthrie (@RepGuthrie) December 1, 2017
The Foundation for Individual Rights in Education also highlights the due-process provisions in the bill. Legislative and Policy Director Joe Cohn writes about the "pause" provision:
First, it does not prevent institutions from providing resources and interim protections while a campus investigation is temporarily paused. Second, it recognizes that campus investigations into sexual assault allegations can compromise the integrity of law enforcement investigations, which in turn can compromise the ability of prosecutors to obtain convictions. …

Importantly, the legislation also strongly encourages schools to enter into comprehensive memoranda of understanding with local law enforcement agencies so that all appropriate governmental resources are brought to bear on addressing allegations.
Like Education Secretary Betsy DeVos's* interim guidance on Title IX, the Republican bill lets colleges set their own evidence standard while also "undeniably" providing provisions "designed to prevent sexual assault and help victims get the help they need when it does occur," particularly through mandatory notice of their rights, reporting and counseling options, Cohn says.
He also flags provisions to protect the integrity of religious student groups, which have faced official discrimination at some colleges – and the entire California State University system – for requiring their leaders to hold their own faith.
The bill denies federal funds to public colleges that deny "full access to the facilities of the institution and official recognition" for religious student groups because of their beliefs, membership policies and practices.
Cohn called these so-called all-comers policies by colleges "well-intentioned, but misguided, attempts to address discrimination," which treat religious groups no differently than the chess club:
Is the campus Hillel really a Jewish organization if it must allow Christians, Muslims, atheists, and people of other faiths to join or even hold positions of leadership? Does it really make sense that the College Democrats should be required to allow Republicans in their ranks?
The bill also gives a "sense of Congress" – nonbinding language – that "free speech zones and restrictive speech codes are inherently at odds with the freedom of speech guaranteed by the First Amendment of the Constitution" and no federally funded public institution "should" restrict speech in this way.
It would, however, ban funds from all colleges that don't certify to the secretary of education they have "annually disclosed" their speech-restriction policies to current and prospective students.
"FIRE is happy that Congress is thinking about ways it can promote free speech on campus," Cohn wrote: "We are hoping we can work with legislators to strengthen the section on campus free speech to eliminate unlawful speech codes once and for all."
Read the PROSPER Act summary page, fact sheet and full text, and FIRE's post on the provisions.
MORE: Cal State forces Christian student groups to accept non-Christians
IMAGE: CLS Digital Arts/Shutterstock
Like The College Fix on Facebook / Follow us on Twitter