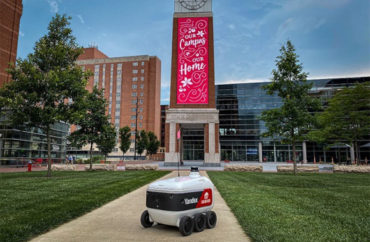 At least two American campuses have seen their food delivery robots disappear after Grubhub recently announced it was severing ties with Russian-based company Yandex.
The driverless robots delivered food to students at the University of Arizona and Ohio State University.
"We will be ending our partnership with Yandex," a Grubhub spokesperson said in a statement sent to the Arizona Republic.
"We take seriously our commitment to the universities that we partner with – and ultimately the student diners who order from the Grubhub platform – to make food ordering and delivery available on campus. We're working with our campus partners on alternate service options as we shift away from Yandex over time."
Grubhub did not mention Russia's invasion of Ukraine as a reason for the split between the two companies. Grubhub announced the partnership with Ohio State in August, 2021, and announced the partnership with Arizona in November.
"More than 60,000 hungry Buckeyes will be able to order their favorite foods from on-campus dining locations via the Grubhub app and have them delivered by one of 50 Yandex robots operating at the OSU campus in a fast and cost-effective way," the company boasted at the time.
Since April 2021, Yandex robots have also been delivering food for local restaurants in Ann Arbor, Mich.
But the Arizona Student Union explicitly blamed Russia's international aggression as the reason Yandex robots would no longer be on campus.
"Due to the invasion of Ukraine by Russia, Arizona Student Unions and Arizona Dining will cease doing business with Yandex, a Russian multi-national public traded company and the hardware provider of the robot couriers on campus, as of today, March 3, 2022," the unions wrote in an Instagram post.
"Our team will continue to work with @grubhub as they secure a new robot courier delivery solution in the coming weeks," the unions said. "University students and staff can continue to order food on Grubhub for pickup and delivery services as usual."
While Grubhub has built its reputation as a major food delivery company in America, Yandex provided the actual food delivery robots.
"As of today, Yandex's autonomous vehicle fleet has 170 cars, which have driven over seven million autonomous miles on public roads in various weather and road conditions in three countries – Russia, Israel and the United States," Grubhub said in its August partnership announcement. "The maturity of the technology as well as the accumulated real-world mileage makes Yandex one of the leading developers of self-driving technology globally."
Other companies provide food delivery robots for campuses, such as Starship Technologies, which hosts robots on the University of Wisconsin-Madison campus.
MORE: Deport Russian students, Democratic congressman says
IMAGE: Grubhub
Like The College Fix on Facebook / Follow us on Twitter