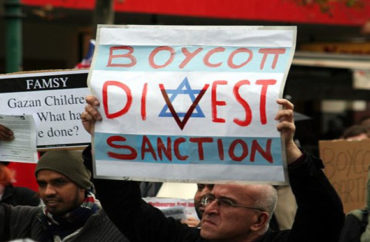 The student government at San Francisco State University recently passed a "Boycott, Divestment and Sanctions" (BDS) resolution which forbids the school from doing business with companies engaged with Israeli "settlements."
According to The Jerusalem Post, the effort was led by SF State's General Union of Palestine Students with 17 voting for it and one against (with two abstentions).
Although such resolutions aren't binding to the university, the vote is expected "to increase tensions between pro-Israel and pro-Palestinian students."
The Jewish Community Relations Council and the San Francisco Hillel blasted the vote.
Although specific companies aren't noted, the resolution makes use of a list created by the Office of the United Nations High Commissioner for Human Rights of over 100 firms. It includes companies such as Airbnb, General Mills and Expedia.
SF State currently has no investments with any company on the list; however, the resolution "added language" to prevent any future ventures.
On Wednesday, the speakers who identified themselves as members of student organizations, including the Black Student Union, League of Filipino Students and the International Business Society, spoke in favor of the resolution, as did a handful of student government representatives.

"I think this document is very reflective of the culture that we should be striving for at San Francisco State in terms of supporting our students," student representative Ja'Corey Bowens said.

In condemning the resolution, JCRC spokesperson Jeremy Russell said in a statement: "It will further exacerbate tensions at SF State, and we call upon the university leaders to ensure Jewish students are welcomed and protected. At JCRC we support coexistence advancement, including mutual cooperation to promote the economic and social welfare of the region and a two-state solution to end the conflict."
In September, SF State tried to host a virtual event featuring 76-year-old Palestinian terrorist Leila Khaled, but was thwarted when YouTube and Zoom said doing so would violate their terms of services. Despite the cancellation, a legislator referred the event to the US Department of Justice for investigation.
MORE: SF State refuses to disaffiliate from Facebook page spewing anti-Semitism
MORE: LAWSUIT: San Francisco State facilitates harassment of Jewish students
IMAGE: Takver / Flickr.com
Like The College Fix on Facebook / Follow us on Twitter