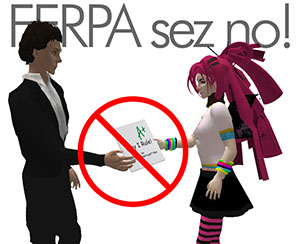 One of school administrators' favorite tools for keeping information from the public, the Family Educational Rights and Privacy Act, doesn't apply to legal settlements, the Massachusetts Supreme Court ruled last week.
The Student Press Law Center reports that the court said the Weston School District simply needed to "redact the personally identifying details of students involved in the settlement documents" but must otherwise release the settlement details to the public.
The case involved school district settlements with the parents of special-needs children. The district argued those details in total constituted "private education records" protected by FERPA. Nope, the court ruled:
"Notably, once personally identifiable information is redacted, the financial terms of such agreements, which necessarily reflect the use of public monies, partially or fully, to pay for out-of-district placements, do not constitute an unwarranted invasion of personal privacy;Supreme Judicial Court Justice Margot] Botsford wrote.
Sometimes it's not administrators that are trying to keep pertinent information private, however.
RELATED: Reminder to 'survivors': Universities are allowed to defend themselves in court
After the University of Oregon obtained a student's therapy records to defend itself against the mental-harm claims in her Title IX lawsuit, the Legislature approved (and the governor signed) a bill to shield such records so they can't be obtained by a university in its own defense.
The U.S. Department of Education is also "likely" to impose rules (in the form of "guidance") that would remove the "loophole" in FERPA that allowed the University of Oregon to legally obtain the student's therapy records.
Read the post, and to submit questionable FERPA uses to the SPLC, visit its FERPA Fact page.
RELATED: Colleges would be hamstrung in lawsuits against them by rape accusers under 'likely' Department of Ed rules
RELATED: FERPA overused, law's author says
RELATED: Want to see your admissions records at Columbia? Sorry!
RELATED: UT-Austin slapped down for withholding docs in admissions scandal
RELATED: In response to possible noose hoax, Duke misstates law to shield perp's motivation
Like The College Fix on Facebook / Follow us on Twitter
IMAGE: iliveisl/Flickr