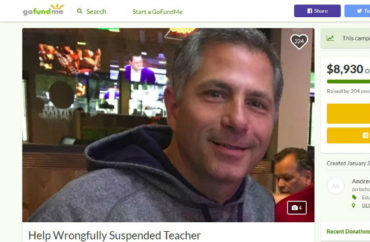 Superintendent issues gag order on top of indefinite suspension
What happens when the public finds out a school district punished a teacher for showing his students a documentary that questions the conventional wisdom about campus sexual assault?
The school district jacks up the charges against him and extends his punishment indefinitely.
That's the case with the Bedford, New York school district, which initially issued a monthlong suspension to 30-year veteran Mike Poplardo for showing his high school students "sexual content" (a verbal description of a rape claim) in the Fox News program.
Following media coverage, the school district suspended Poplardo indefinitely, according to The Daily Wire. The new charges are "misconduct and conduct unbecoming a teacher, misconduct, incompetence, and insubordination" for showing The Truth About Sex and College, which features Daily Wire reporter Ashe Schow.
It certainly looks like retaliation against Poplardo by Superintendent Christopher Manno for discussing his suspension publicly.
Manno had originally sought a six-month suspension for the teacher, whose monthlong suspension was scheduled to end Friday. The superintendent slapped him with seven new charges after Poplardo shared his lesson plan with his students' parents, which included a link to the Fox News program, but has yet to give him a hearing on those charges.
MORE: Bedford school district considers Fox News 'sexual content'
In a Jan. 25 letter to Poplardo reviewed by Schow, Manno said he would be "placed on a paid administrative leave of absence … until further notice." The superintendent also issued a gag order, telling Poplardo he's not allowed to "communicate with students about the circumstances surrounding the two sets of disciplinary charges against you and other issue relating to your legal issues and personal employment with the District" (Poplardo is appealing the findings against him to a local trial court).
Poplardo is not allowed on school district grounds except to attend a scheduled hearing on the charges, according to the letter. His GoFundMe page to raise money for family expenses and healthcare costs is approaching $14,000 as of Wednesday morning.
Though he hasn't tweeted since last summer, Manno only took down his Twitter profile sometime in the past two weeks, judging by Google's cache (timestamp visible in text-only version). His LinkedIn page remains up, as does his Facebook account, which started drawing critical comments about the Poplardo situation last week.
Read the new Daily Wire report.
MORE: 'Hunting Ground' filmmakers suggest criticism violates Title IX
IMAGE: GoFundMe screenshot
Like The College Fix on Facebook / Follow us on Twitter