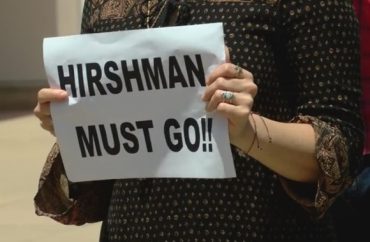 Muslim students and civil rights groups on Wednesday demanded San Diego State University President Elliot Hirshman's resignation for allegedly failing to make students feel safe after a handful of students involved in the Boycott, Divest and Sanction effort were called terrorist supporters on fliers found on campus.
At the heart of the matter is Hirshman's refusal to fully condemn the fliers. While he denounced them, he added the university recognizes and supports the rights of all parties to voice positions on political issues.
Last week, activists surrounded Hirshman for more than an hour, preventing him from leaving campus in protest of his "inadequate" response to the fliers. He finally apologized and was allowed to depart.
RELATED: San Diego State president forced to 'apologize' by anti-Israel mob for campus anti-BDS posters
That confrontation led to a meeting between the president and students and civil rights groups on Monday, after which the president issued a statement that "we concluded by agreeing that in cases where racism, islamophobia, misogyny, homophobia and all forms of bigotry result, we abhor the content of such expressions, even as we recognize the protected status of these expressions. Finally, we reaffirm our commitment to supporting an environment that fosters meaningful dialogue and mutual respect."
The protesters are wholly unsatisfied with the president's defense of free speech and calls for civility.
"Two days ago the students and civil right groups gave President Hirshman 48 hours to protect the students safety and security by clearly condemning the posters that named students 'Terrorists' and 'allies of Terrorists' on campus," states a Change.org petition launched Wednesday titled "Resign Hirshman!"
Students claim Hirshman makes them feel unsafe.
"It is the job of the president of any body of people to make sure that those people feel safe and secure but in this case Elliot Hirshman didn't do that," the petition states.
During the press conference, Alexander James, an SDSU graduate who was named on the poster as a former member of Students for Justice in Palestine, said "I think that President Hirshman is fundamentally failing the students because he has not accommodated for the safety of students," reports the San Diego Union-Tribune.
The Union-Tribune came out in support of Hirshman on Wednesday, saying in an editorial that "the statement that SDSU issued Monday after Hirshman met with students struck the proper tone. It said there would be a collaborative review of university policies 'to ensure we are balancing freedom of expression and protection from harassment,' and it deplored hateful speech 'even as we recognize the protected status of these expressions.'"
But that compromise did not go far enough for the civil rights and student groups getting in on the action, including the National Action Network, a civil-rights organization founded by the Rev. Al Sharpton, the Council for American-Islamic Relations, Mecha de SDSU, Students for Justice in Palestine and the Muslim Student Association, according to the petition.
The controversial fliers were created by conservative firebrand David Horowitz, who has created similar fliers at other California campuses and told The College Fix last week he stands behind them.
"They're not ignorant college kids. They're willing and committed campus agents of Hamas. Big difference," Horowitz said. "We singled out the leaders of an organization founded by members of the Muslim Brotherhood whose sole mission [is] to spread Hamas' genocidal lies about the Jewish state and spearhead the Hamas-inspired and Hamas-funded BDS campaign which is a genocidal campaign to strangle the Jewish state. Calling them innocent would be a insult to their intelligence and malice."
Horowitz is scheduled to speak at the school today. More protests are expected. His invitation by the College Republicans was made before distribution of the posters.
RELATED: David Horowitz takes credit for #JewHaters posters at UCLA targeting SJP
RELATED: Horowitz responds to UNC dispute: MSA and SJP 'creatures of the Muslim Brotherhood'
Like The College Fix on Facebook / Follow us on Twitter