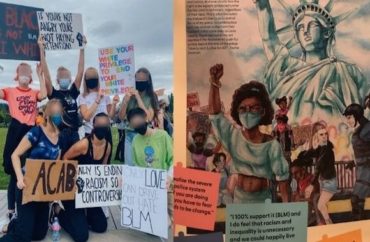 Remember when things associated with President Donald Trump had to be censored by high school yearbook staff due to their controversial nature?
As it is, as Seattle talk show host Jason Rantz says, "traditionally, yearbooks eschew overtly political or controversial messages and images." Key word: "traditionally."
But we're now in post-George Floyd America, and that means politically charged messages virtually are a must. Especially in progressive enclaves.
At a pair of Seattle-area schools, the yearbooks feature students holding placards containing virulent anti-law enforcement, and pro-Black Lives Matter, messages.
The Woodinville High School yearbook shows a septet of students in a "BLM Protest" photo holding up signs stating "Use your white privilege to end your white privilege" and "Why is ending racism so controversial?" One student holds a sign with "ACAB" — "All Cops Are Bastards" on it.
Woodinville's yearbook theme of which is "Piecing Us Together." Go figure.
Bonney Lake High's yearbook has a section of student artwork titled "Liberty and Justice for All." It features Black Lives Matter protesters against the backdrop of the Statue of Liberty holding signs with the messages "Silence is violence," and "Stop killing us." It also has a white police officer in the process of beating a black woman with baton.
MORE: Teacher praises Adolf Hitler in high school yearbook
In addition, the section includes a link where people can donate to BLM.
Regarding Woodinville's images, the Northshore School District's Lisa Youngblood Hall said the "ACAB" picture was "a mistake" and "does not reflect our District values." She claimed the yearbook advisors didn't know what the acronym meant, and were "embarrassed and apologetic" about it.
But as to Bonney Lake, Sumner School District Communications Director Elle Warmuth defended its yearbook images in an email to Rantz:
With the purpose, in part, to chronicle events, issues, pop culture and student life during any given school year, yearbooks often serve as a historical publication. Our yearbook standards reflect this purpose in highlighting a variety of topics written in either fact-based or opinion-based formats. The Black Lives Matter message presented a factual background of the movement and timeline of events.
Warmuth did apologize for the BLM donation link, however, saying it "should not have been included."
MORE: A libertarian's picture didn't make it into the yearbook. But Karl Marx did.
IMAGE: Jason Rantz KTTH Radio / Twitter screencap
Like The College Fix on Facebook / Follow us on Twitter