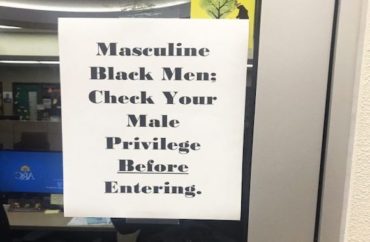 Staff refused to publicly explain why it was posted
A sign appearing to slam "masculine black men," posted without context or explanation in a public area, generated controversy recently at a California community college. Staff and other persons involved in the creation of the sign have remained largely silent about why it was created and what its purpose was.
The American River Current, the student newspaper of American River College, reports that, earlier this month, someone posted a sign in the door of an office at the university student center reading: "Masculine black men; check your male privilege before entering." The sign, posted in the door of the campus group UNITE, "was posted without explanation," The Current reports.
The flyer remained up for around a week, according to the paper, before it was taken down. It was addressed in a faculty-wide email by the school's president, Thomas Greene, who wrote that it was "part of the work Black student HUB leaders were doing in exploring issues related to sexism and misogyny."
Though Greene offered a surface-level explanation of the sign, "staff members within UNITE and the Equity Programs initially refused to explain the exact context of the poster to their colleagues in the faculty email thread, saying it would instigate misinformation." Several staffers in that group declined interviews with The Current; responding to Greene's thread, they would only agree to explain the sign to individuals instead of to the group.
In the closest that anyone has come to a public explanation of the sign's origin, one campus official told The Current:
The student interns were having conversations around women of color … and the experiences they have within the black community. From that dialogue, it became an 8 and a half by 11 word documented printed sign that was placed on the glass door in the UNITE office.
UNITE held a meeting earlier this month addressing the poster, but media were officially barred from it; journalists were allowed to attend, but were asked not to report on anything they witnessed while in it.
In an email, President Greene offered the school "additional counseling resources" for any student that had been "negatively affected" by the sign.
MORE: University workshop will teach men about the 'aesthetics of manhood'
Like The College Fix on Facebook / Follow us on Twitter