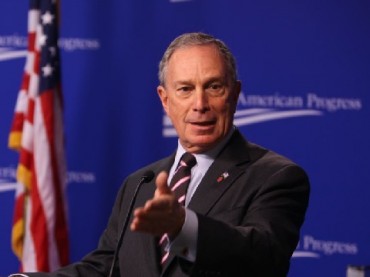 Commencement Controversy Watch 2014 continues with its latest installment:
A contingent of Harvard University students are bridling about campus officials' decision to choose former New York City mayor Michael Bloomberg as the 2014 commencement speaker,
The Harvard Crimson
reports.
At issue is his support of stop-and-frisk policies and proactive anti-terrorism policing programs.
Stop and frisk has been criticized for disproportionately affecting minorities.
"Bloomberg's policies have deeply affected minority groups in a discriminatory way," student Gabriel Bayard told the Crimson.
"Harvard's bringing him to deliver the commencement address could be taken as either an endorsement of this policy or as simple ignorance thereof … To be honest, I'm not quite sure which is worse," Harvard College Black Men's Forum President Rodriguez Roberts, a student, also told the Crimson.
Other students lamented Bloomberg's policies targeted at the Muslim community in New York while mayor. Under the Bloomberg regime, the New York Police Department used its forces to crack down and spy on 16 student organizations throughout New York City.
Islamic Society member Shehryar Sheikh told the Crimson that, as a Muslim, he was disturbed by Bloomberg's selection because of his perception of the former mayor's treatment of Muslims in New York City.
The concern comes at a bad time for Harvard, as racial tensions heated up after a group of students created a campaign entitled I, Too, Am Harvard, which placed race animosity and discrimination concerns at the forefront of the Ivy League institution.
Like The College Fix on Facebook / Follow us on Twitter
IMAGE: Center for American Progress/flickr
Like The College Fix on Facebook / Follow us on Twitter