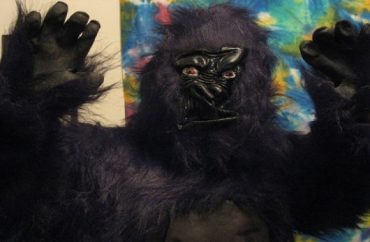 Not only did campus police flout the law by arresting a student in a gorilla mask at a Black Lives Matter rally – but East Tennessee State University can't lawfully punish him, either.
Adam Steinbaugh at the Foundation for Individual Rights in Education explains why the Tennessee "civil rights intimidation" law under which Tristan Rettke was charged does not apply to his conduct, which is well documented in a protest video and described in the police report.
State law forbids injuring or threatening to injure, or coercing, another person "with the intent to unlawfully intimidate another" from exercising state or federal law or constitutional rights. The problem is, Rettke's observed behavior doesn't go anywhere near injuring or threatening to injure anyone.
Steinbaugh thinks the "intent" part of state law is "susceptible to a First Amendment challenge":
Police officers characterized Rettke's statement to them as evidencing an intent to "provoke" peaceful protesters. Yet seeking to provoke others is generally protected speech, and similar prohibitions on "intimidation" have been struck down on First Amendment grounds as vague and overbroad. In Armstrong v. Ellington, for example, a federal court struck down a law prohibiting disturbance of the peace "for the purpose of intimidating or terrorizing […] any citizen […] to do or not to do any lawful thing[.]" This statute was used during the civil rights era, both in that case and as a matter of routine, to suppress black protesters peacefully protesting in Memphis.
MORE: 'Civil rights intimidation' charge for trying to provoke protesters
But it's the injury or coercion part that simply doesn't fit, he continues, quoting another state law that defines coercion as a "threat, however communicated":
Tennessee's statute is overbroad, reaching a variety of speech that would not constitute a "true threat" under the First Amendment. For example, the definition would make it unlawful "coercion" to tell a university administrator that if he did not change a policy, he would be ridiculed in the student newspaper for that policy.

This is not idle speculation. Tennessee's definition of "coercion" tracks, word-for-word, the definition employed by Texas. That definition was declared unconstitutionally overbroad by a Texas appellate court in dismissing a charge against then-Governor Rick Perry. The Texas Court of Criminal Appeals subsequently agreed that the definition of "coercion" is "unconstitutionally overbroad in violation of the First Amendment."
Even the state ACLU agrees, telling the Johnson City Press that Rettke was in a "public forum space where First Amendment protections are at their height" and his "contemptible racist speech is protected by the First Amendment."
Without a legitimate threat of any kind, ETSU's "interim suspension" of Rettke for constitutionally protected conduct could be challenged in court. Luckily for the school, Rettke told The Daily Beast he's "going to be withdrawing" from the public university.
h/t Hans Bader, who points to another legal analysis of the case
MORE: Dartmouth Alumni Relations on BLM library disruption: 'no rules broken'
MORE: College waves off assault on woman wearing Trump hat as 'verbal' incident
Like The College Fix on Facebook / Follow us on Twitter
IMAGES: ClutrVultr/Flickr, police report screenshot