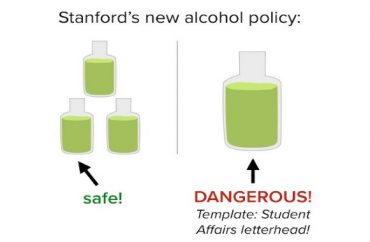 University channels Bloomberg's oversized soda ban in bid to reduce drunkenness
Stanford University on Monday rolled out a new alcohol policy that aims to reduce drunkenness on campus by restricting its very presence — because prohibition in this country worked out so well in the past.
Campus officials spelled out the new rules with a mind-boggling list of provisos, stating in part:
In an effort to reduce the availability and accessibility of hard alcohol, Stanford University has updated its student alcohol policy to prohibit high-volume distilled liquor containers for all undergraduate and coterminal students living in undergraduate housing. It also prohibits hard alcohol at all categories of on-campus parties, with the exception of parties hosted by student organizations and residences whose membership is 100 percent graduate students. That exemption applies to alcohol in the form of mixed drinks. Straight shots of hard alcohol are never allowed at any party. Beer and wine are the only alcoholic beverages that can be present at all on-campus undergraduate student parties.
Got that? But wait, there's more fine print.
The policy update, which goes beyond state law requirements, prohibits containers 750 mL and larger of distilled liquor, spirits and hard alcohol (alcohol by volume 20 percent and above or 40 proof) in undergraduate student residences, including rooms and common spaces. The beverages that are allowed under this policy for individuals 21 and older must have been purchased from a licensed establishment and must be contained and stored in their original containers.
Uh-huh. Students are totally gonna follow this.
The new policy came despite a campus-wide referendum in April in which 91 percent of voters took a stand against a hard alcohol ban, and about 1,720 people signed a petition against the proposal, the Stanford Daily reports.
"I challenge you not to focus on the policy as something to be worked around," Greg Boardman, vice provost for student affairs, admonished to students in an email announcing the new policy.
"Instead, I ask you to bring your best selves to this endeavor … we must create a campus community that allows for alcohol to be a part of the social lives of some of our students, but not to define the social and communal lives of all of our students."
Bringing their best selves
Meanwhile, the Bloombergian rule that whatever alcohol is allowed on campus after deciphering the fine print must be in smaller containers (oversized soda ban, anyone?) was quickly mocked by some mischievous Stanford students who joked "Make Stanford Safe Again" on a new website weighing in on the policy.
The website lets students buy "low-volume" alcohol containers (same alcohol, but magically safer in 3X small bottles than 1 big bottle).
"We have had close to five figures in views and several hundred sign-ups for containers since we launched at 1 p.m.," one of the students who created the site told The College Fix on Monday.
But campus administrators insist their new rules make sense.
"Limiting the size of hard alcohol containers is a harm reduction strategy designed to reduce the amount of high-volume alcohol content that is available for consumption at a given time," officials stated in announcing the ban.
Like The College Fix on Facebook / Follow us on Twitter