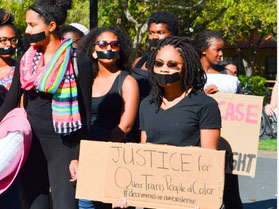 You can be certain that whenever the public face of a progressive cause is straight and white, racial and sexual minorities will feel overlooked.
Columnist Mysia Anderson of the Stanford Daily writes about the community's "solidarity" with Columbia University student Emma Sulkowicz, who has pledged to carry her mattress around campus until her alleged rapist is brought to justice.
Anderson notes that people of "varying gender identities, sexualities, races and ethnicities gathered in White Plaza" on Wednesday to show Stanford's common cause with Sulkowicz – but there were racial tensions on display, with all black women gathered in one block.
Anderson writes:
[O]ne cannot help but question why whenever there is a successful movement that a great number of people feel invested in surrounding sexual assault, it is led by a face that is not black, queer identified or transgendered. These groups are not the center of the movement; they are an afterthought — not important or valued enough to build a movement around..
She points to an overlooked Oklahoma case where a police officer is alleged to have sexually assaulted several black women, and says "marginalized voices need to be loud in every meeting, town hall and discussion" at Stanford:
As an act of resistance to being marginalized in the movement around sexual assault on the Stanford campus, black women from the community made a space for themselves in a demonstration that excluded their stories and silenced their voices. In an effort to be heard and scream demands, we showed up to White Plaza dressed in all black, armed with signs for our advocacy, and placed black tape over our mouths. We are silenced in this movement and met with apathy, but we will not be silent and disappear behind pillows and mattresses that do not recognized the importance of intersectionality.
"Intersectionality," by the way, refers to "the complex of reciprocal attachments and sometimes polarizing conflicts that confront both individuals and movements as they seek to 'navigate' among the raced, gendered, and class-based dimensions of social and political life," according to the Center for New Racial Studies at the University of California.
Like The College Fix on Facebook / Follow us on Twitter
IMAGE: Stanford Daily screenshot