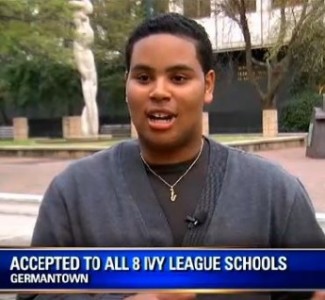 This. Is. Awesome.
Ronald Nelson was accepted into all eight Ivy League universities. Ronald Nelson then turned down every Ivy League school.
He's headed to the University of Alabama, and the reason why is brilliant – University of Alabama was the one that offered him a full ride. It's a debt-free graduation in his future.
Peter Jacobs of Business Insider reports:
It's easy to see why Nelson got into UA's honors program and every single Ivy League school. As a student at Houston High School in Memphis, Tennessee, he has a 4.58 weighted GPA, has taken 15 AP courses, and achieved a 2260 out of 2400 on his SAT and a 34 out of 36 on his ACT. He's the senior-class president of his high school, a National Merit Scholar and National Achievement Scholar, and a state-recognized alto saxophone player.

Despite his achievements, Nelson did not receive a performance-based scholarship from the Ivy League schools. None of them offer merit scholarships …

After some thought and consideration of all the schools' offers, Nelson decided it wouldn't be worth the financial strain to [take on so much debt] on his undergraduate education. He plans on going to medical school after college, and knows he'll be faced with more tuition costs. …

"The Ivy League experience would certainly be something amazing, to make these connections, and have these amazing professors," he said. "But I really do think I'll be able to make the same experience for myself at the college I chose."
Wow – great attitude, great perspective and great decision. Good luck to Ronald Nelson, and congrats on making a decision that helps you avoid a mountain of debt.
Read the full Business Insider article.
Like The College Fix on Facebook / Follow us on Twitter
IMAGE: Screenshot